Solitary pulmonary capillary hemangioma presenting with ground glass opacity: Case report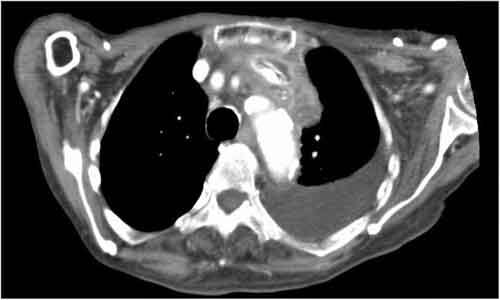 Teruya Komatsu and colleagues from the Department of General Thoracic Surgery, National Hospital Organization Nagara Medical Center, Gifu, Japan recently reported a rare case of GGO in the lung for which they emphasized that solitary pulmonary capillary hemangioma (SPCH) must be considered as one of the differential diagnoses.

The case study is published in the International Journal of Surgery Case Reports.

A solitary pulmonary capillary hemangioma (SPCH) is a rare benign lung tumor. Preoperative diagnosis remains a challenge because it is radiographically visualized as a ground-glass opacity (GGO), which is considered to indicate early lung cancer or a precancerous lesion. Radiographic findings often include pure or mixed GGOs, which may lead to suspicions of adenocarcinoma in situ (AIS), atypical adenomatous hyperplasia, and focal inflammation.
Microscopically, an SPCH typically appears as a solitary lesion with densely proliferating and dilated capillaries within the alveolar septum, which is composed of a single layer of flattened or cuboidal endothelial cells without cytological atypia. The increased capillary density caused by hyperplasia and the enlarged endothelial cells lead to the appearance of a mixed GGO rather than a pure GGO on chest CT.
Therefore, the present case study is elaborating the findings noted in a 54-year-old Japanese man who was referred to Nagara Medical Center for the evaluation of a GGO, which was found incidentally within the right upper lung on computed tomography (CT). Chest CT showed a pure GGO lesion measuring 8 mm in diameter in the anterior segment of the right upper lobe. The patient had quit smoking approximately 15 years previously.
After 8 months of follow-up, video-assisted thoracoscopic segmental resection of the right upper lobe was performed with diagnostic and therapeutic intent. Pathologic examination of the resected specimen demonstrated thickening of the alveolar septum caused by the proliferation of capillary vessels. This lesion was positive for CD31 and CD34 and negative for thyroid transcription factor-1 and cytokeratin on immunohistochemical staining. The tumor was then diagnosed as SPCH pathologically.
Hence, the researchers then concluded that "GGO lesions may represent an SPCH or AIS/early lung cancer. Because the prognosis of each of these diseases is quite different, a pathological examination involving immunohistochemistry must be conducted to ensure the establishment of the correct diagnosis."
For further reference, log on to:
Source : International Journal of Surgery Case Reports