Cadexomer Iodine as an effective anti-biofilm dressing: What clinicians need to know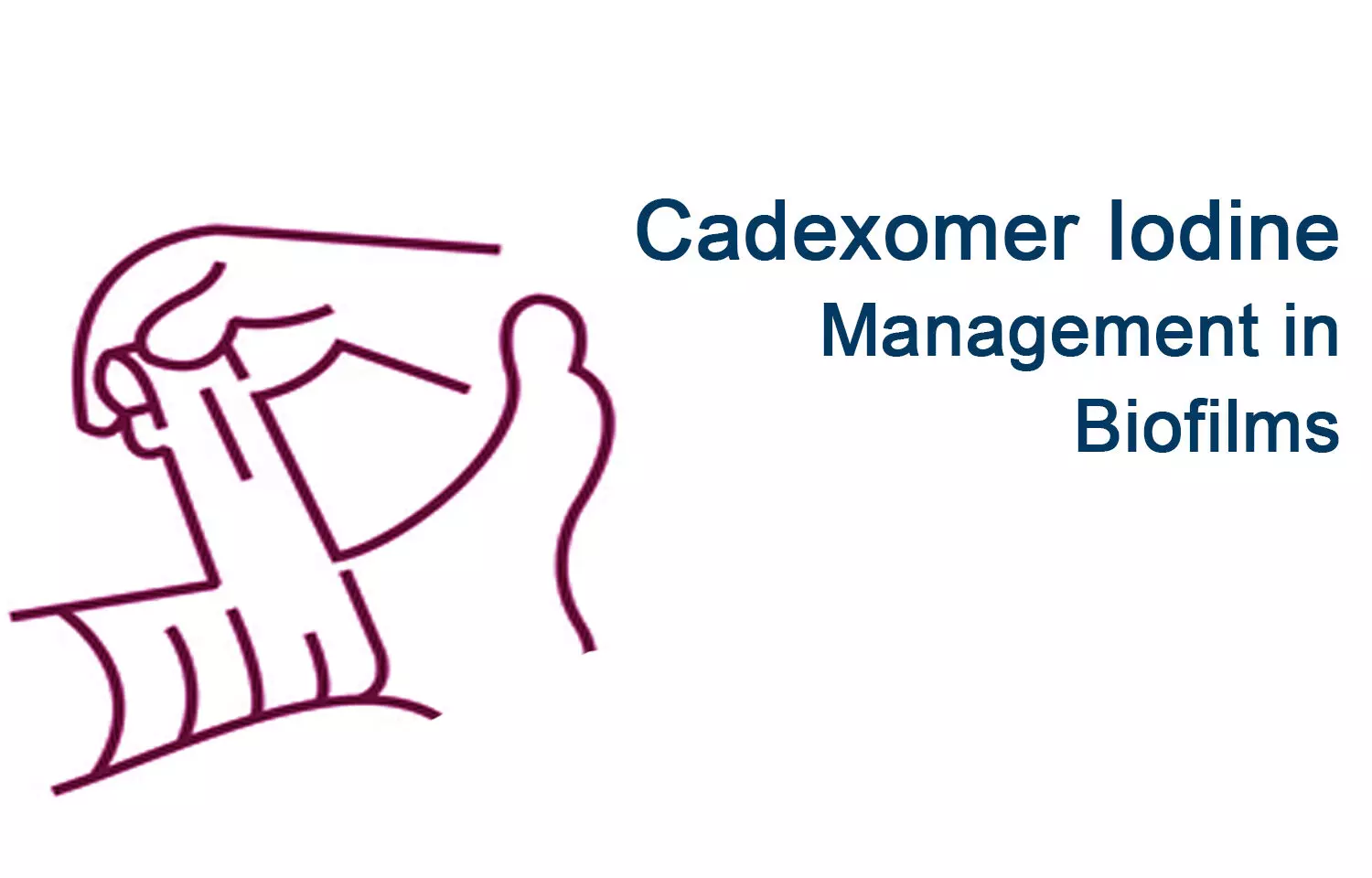 Wound management is undergoing a revolution with the identification of more and more resistant strains of microorganisms, making it a challenge for physicians to control tissue damage and initiate healing.

With recent studies (1) confirming the presence of biofilms in 78% of non-healing, recurring wounds, timely intervention coupled with proper selection of topical antimicrobials can go a long way in determining the success in wound management.
Following the T.I.M.E continuum (2) for a favourable wound bed preparation which recommends optimum wound care by controlling 4 factors, specifically, Tissue(T), Inflammation and Infection(I), moisture management (M) and wound edge preparation (E), Cadexomer Iodine has exhibited exceptional therapeutic value as a topical antimicrobial for exuding wounds(3, 4,5).
Accumulating evidence in the last decade has highlighted that CI has shown high success rates in managing venous leg ulcers (6), pressure sores (7), and diabetic foot (8). Notable studies have confirmed the successful application of CI in non-healing wounds with resistant microbial biofilms. (9,10).Under such scenarios, a systematic review and comparative evaluation of CI with other widely used antimicrobials were lacking.
Bridging this gap, a review article by Sandoz H et al, from the Hertfordshire Community NHS Trust, UK, has highlighted the important role of CI on non-healing, chronic, and recurrent wounds, while providing a detailed analysis of previous comparative studies with other available antimicrobial dressings. The article further elaborates on clinical tips for optimum use of CI in clinical settings. (11)
The article has been published in the Wounds International journal in November 2017.
The highlights of the review have been summarized below.
Key features of Cadexomer Iodine
• High absorptive property- On a molecular level, cadexomer iodine, is a starch polymer with 0.9%w/w iodine. Starch, being hydrophilic, helps in the absorption of wound exudates, fluids, and pus. This further helps in moisture control and optimizes the wound environment for tissue regeneration and rapid healing. Owing to such high absorptive activity, the microbeads of CI swell and this exposes the intrinsic iodine molecules to get in direct contact with the wound surface. (10)
• Antimicrobial action of 0.9% iodine- The main antimicrobial action of CI is due to iodine. Previous s tudies have noted a slow, sustained and constant release of iodine over 72 hours from wounds treated with CI.(12,13). This dual mechanism of action helps CI to invade and destroy the most impenetrable biofilms in chronic wounds.
What makes CI Superior to other topical antimicrobials?
• As Cadexomer Iodineis manufactured using micro-bead technology ,itharnesses the effectiveness of iodine as a broad-spectrum antimicrobial and is effective when delivered in sustained low concentrations, rather than high and short-burst doses (as with older formulations such as povidone-iodine).(11)
• The established dual mechanism of action of CI keeps it way ahead of other antimicrobials in a favorable wound bed preparation.
• CI can breach the biofilm's protective matrix and kill the bacteria within (14).
• To date, there have been no reports of acquired resistance to iodine.
Both in vivo and in vitro studies have put forth superior results with CI against topical antimicrobials such as PHMB, silver, and povidone-iodine in terms of toxicity, sustained release for up to 72 hours, modulated release in response to healing, mechanical action against biofilm, antimicrobial efficacy in mature biofilm, and measured biofilm reduction. (1, 12, 14,15,16)
Scientific evidence supporting CI – The article focuses on five clinically relevant, challenging biofilm models, where CI was shown to be more effective than a comparative silver dressing (17) in terms of log reduction (Log10 CFU/sample) over 24 hours (three models), 48 hours and 72 hours (one model each).
A Cochrane meta-analysis highlighted the role of CadexomerIodine on a faster rate of healing in venous leg ulcers (VLUs) compared to standard care. (18). Further analysis of healing data has shown the use of CI can lead to cost savings in the treatment of VLUs (19).
Update for clinicians: how and when to use?
• Clinicians are encouraged to take an initial aggressive approach to treat biofilm, thorough physical debridement of the wound being the first step. It is well documented that removal of microbial aggregates opens up the therapeutic window for topical antimicrobials to act. (20)
• This should be followed by the application of CI, based on individualistic decisions depending on patient need. This is crucial to remove residual biofilm following debridement and also ideal to address biofilm where sharp debridement is not possible.
• Maintenance debridement is an important complementary step done by Cadexomer Iodine via autolytic debridement.
• Addressing the frequency of dressing change, it has been recommended that frequency will depend on the amount of exudate. The dressing will change from brown to white when the iodine has been released indicating the time to change. On average, dressings are changed 3 times a week but clinical judgment can dictate frequency based on assessment.
• The authors also state that on dressing removal, clinicians may observe that it is granular with residue on the wound. In such cases, the wound can be irrigated to remove the remaining dressing.
Take home message-
• CI has emerged as highly efficacious in managing non-healing and recurring wounds.
• Mounting evidence has backed up the superiority of CI over other antimicrobial dressings.
• Clinicians should keep an eye on the stepwise management of wounds, as well as on proper timing and frequent change of CI dressings to get optimum results.
Conclusion- Reaffirming the fact that a systematic, simple and clear approach to biofilm-based wound care is very important, this review article has provided an elaborate, in-depth, and much-needed insight into the significant role of Cadexomer Iodine in tissue repair for chronic wounds. With robust evidence in its support, CI is and will continue to be one of the most potent topical antimicrobial dressing for chronic wounds.
References
1. Malone M et al. The prevalence of biofilms in chronic wounds: a systematic review and meta-analysis of published data. J Wound Care 2017a; 26(1): 20–5
2. Schultz G et al. Consensus guidelines for the identification and treatment of biofilms in chronic non-healing wounds. Wound Repair Regen 2017
3. Roche, E. D., Woodmansey, E. J., Yang, Q., Gibson, D. J., Zhang, H., & Schultz, G. S. (2019). Cadexomer iodine effectively reduces bacterial biofilm in porcine wounds ex vivo and in vivo. International wound journal, 16(3), 674–683. https://doi.org/10.1111/iwj.13080
4. Holloway, G. A., Jr, Johansen, K. H., Barnes, R. W., & Pierce, G. E. (1989). Multicenter trial of cadexomer iodine to treat venous stasis ulcer. The Western journal of medicine, 151(1), 35–38.
5. Raju R, Kethavath SN, Sangavarapu SM, Kanjarla P. Efficacy of Cadexomer Iodine in the Treatment of Chronic Ulcers: A Randomized, Multicenter, Controlled Trial. Wounds. 2019 Mar;31(3):85-90. Epub 2019 Jan 31. PMID: 30720444.
6. Sarkar PK, Ballantyne S Management of leg ulcers Postgraduate Medical Journal 2000;76:674-682.
7. Moberg S, Hoffman L, Grennert ML, Holst A. A randomized trial of cadexomer iodine in decubitus ulcers. J Am Geriatr Soc. 1983 Aug;31(8):462-5. doi: 10.1111/j.1532-5415.1983.tb05117.x. PMID: 6688261.
8. Apelqvist J, RagnarsonTennvall G. Cavity foot ulcers in diabetic patients: a comparative study of cadexomer iodine ointment and standard treatment. An economic analysis alongside a clinical trial. ActaDermVenereol. 1996 May;76(3):231-5. doi: 10.2340/0001555576231235. PMID: 8800307.
9. Roche, E. D., Woodmansey, E. J., Yang, Q., Gibson, D. J., Zhang, H., & Schultz, G. S. (2019). Cadexomer iodine effectively reduces bacterial biofilm in porcine wounds ex vivo and in vivo. International wound journal, 16(3), 674–683. https://doi.org/10.1111/iwj.13080
10. Woo K, DowsettC,Costa B, Ebohon S, Woodmansey EJ, Malone M.Efficacy of topical cadexomer iodine treatment in chronic wounds: Systematic review and meta- analysis of comparative clinical trials. Int Wound J.2021;1–12. https://doi.org/10.1111/iwj.13560
11. Biofilm – based wound care with Cadexomer iodine. Wounds International. November 2017
12. Skog E et al. A randomized trial comparing cadexomer iodine and standard treatment in the out-patient management of chronic venous ulcers. Br J Dermatol 1983; 109: 77–83
13. Smith & Nephew (2009) Iodine release from CADEX Iodocoat TM and U-PastaTM . Smith & Nephew Wound Management. Data on file report – 091101
14. Zhou L et al. Slow release iodine preparation and wound healing: in vitro effects consistent with lack of in vivo toxicity in human chronic wounds. Br J Dermatol 2002; 146(3): 365–74
15. Akiyama H et al. Assessment of cadexomer iodine against Staphylococcus aureus biofilm in vivo and in vitro using confocal laser scanning microscopy. J Dermatol 2004; 31(7): 529–34
16. Phillips PL et al. Antimicrobial dressing efficacy against mature Pseudomonas aeruginosa biofilm on porcine skin explants. Int Wound J 2015; 12(4): 469–83
17. Fitzgerald DJ et al. Cadexomer iodine provides superior efficacy against bacterial wound biofilms in vitro and in vivo. Wound Repair Regen 2017; 25(1): 13–24
18. O'Meara S et al. Antibiotics and antiseptics for venous leg ulcers. Cochrane Database Syst Rev 2014 1: CD003557
19. Nherera LM et al. Estimating the clinical outcomes and cost differences between standard care with and without cadexomer iodine in the management of chronic venous leg ulcers using a markov model. Ostomy Wound Manage 2016; 62(6): 26–40
20. Wolcott RD et al. Biofilm maturity studies indicate sharp debridement opens a time-dependent therapeutic window. J Wound Care 2010; 19(8): 320–8