Role of Micronized Purified Flavonoid Fraction (MPFF) in Hemorrhoidal Disease-Review of Evidence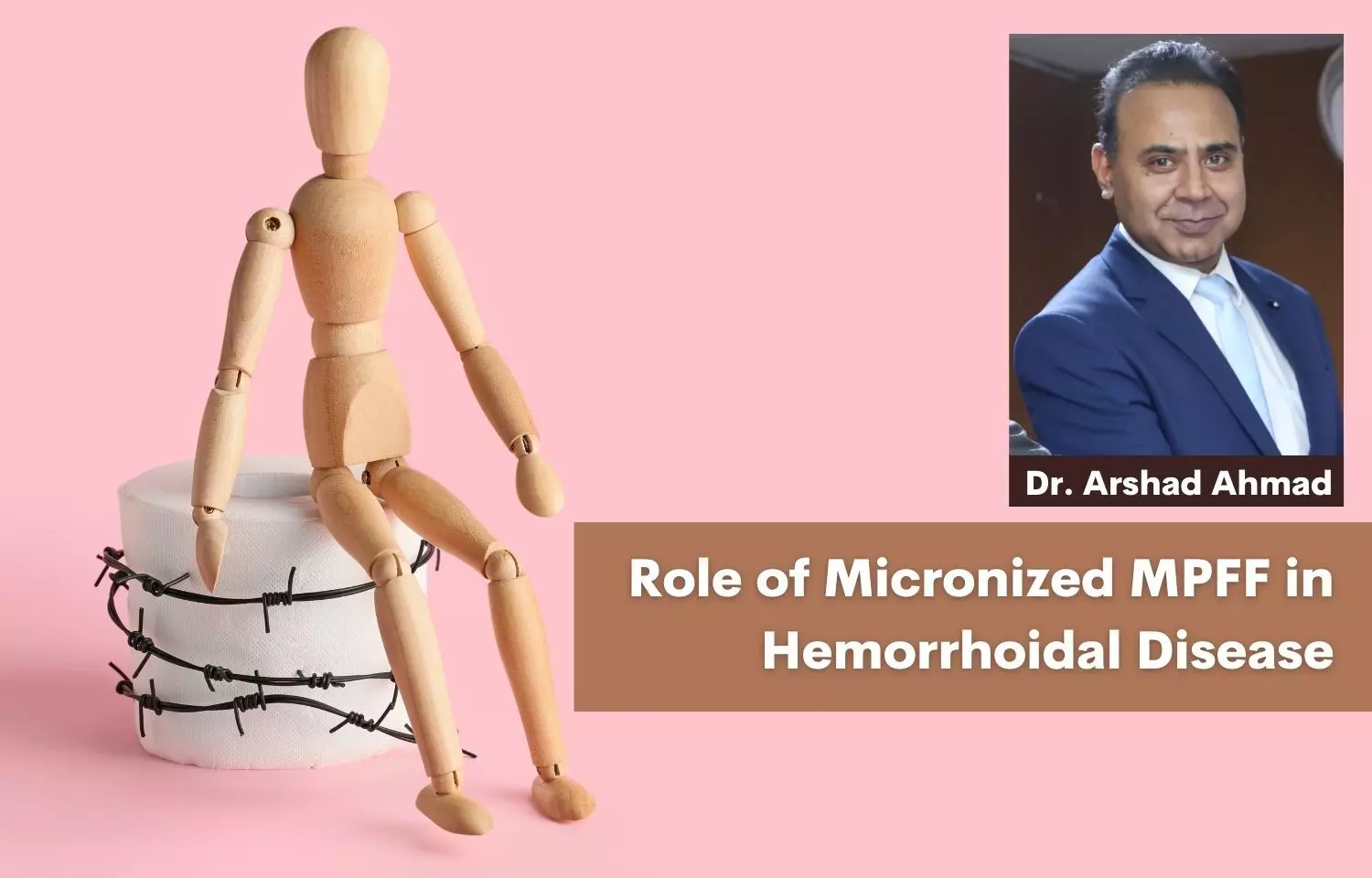 Hemorrhoidal disease (HD) is one of the most common anorectal conditions affecting 4% of the global population [1]. It is most common in adulthood with 50% of people over 50 years old may have experienced the symptoms related to hemorrhoids at some time during their lifetime. The extent and exact incidence of this disease cannot be estimated patients are often hesitant to seek medical help because of embarrassment or the fear, discomfort, and pain associated with the treatment [2].
PATHOPHYSIOLOGY OF HEMORRHOIDAL DISEASE
Hemorrhoids are vascular cushions within the anal canal contributing approximately 15–20% of the resting anal pressure, ensuring complete closure of the anal canal [2-4]. These are of two types namely internal hemorrhoids (IHs) and external hemorrhoids (EHs). Internal hemorrhoids arise from the internal hemorrhoidal plexus and are present above the dentate line, while external hemorrhoids are present below the dentate line.
In a non-pathological state, the internal hemorrhoids are thickened pads of blood vessels and fibrous connective tissue stroma surrounded by and muscular fibers while an external hemorrhoid is a small venous plexus located under the skin at the margin of the anus consisting of small interlacing veins giving it a honeycomb appearance.
Several theories regarding the pathogenesis of hemorrhoids have been put forth and the sliding cushion theory due to weakness of connective tissue support and altered inflow, outflow balance is widely accepted. [5, 6]
Lack of fiber and fluid in diet along with a sedentary lifestyle has often been implicated as a risk factor for the development of hemorrhoidal symptoms. Constipation and excessive straining during defecation also contribute to the development of hemorrhoidal symptoms.
SIGNS AND SYMPTOMS OF HEMORRHOIDAL DISEASE
Under non-pathological conditions, hemorrhoids are normal vascular plexuses, spotted in all genders and ages, including newborns [7]. Hemorrhoids become symptomatic when the cushions are enlarged, inflamed, thrombosed, or prolapsed.
Acute symptoms of external hemorrhoids generally start when they are thrombosed and present with painful swelling and may be accompanied by pruritus. The pain usually subsides in a few days, whereas edema and swelling take longer to resolve.
Chronic symptoms of internal hemorrhoids classically include painless bleeding during defecation. The bleeding is fresh and stops naturally at the end of straining to defecate. Other symptoms of the hemorrhoidal disease include prolapse which may reduce spontaneously or may require manual reduction. Sometimes patients may experience pruritis and soiling. Often these patients also complain of constipation.
MECHANISM OF ACTION OF VENOACTIVE DRUGS
Venoactive drugs or phlebotonics, which are used for the treatment of chronic venous disease (CVD; e.g., varicose veins), have also been used to treat HD [8]. Acting via enhancing the venous tone and reducing the capillary permeability, vascular endothelial activation, and inflammation; these drugs have exhibited a superior efficacy by reducing the risk of recurrent symptoms in HD, with apparent reductions in the risks of bleeding, pain, itching, and recurrences [9]. Yet another recent study [10] has highlighted that MPFF, a venoactive agent, provided statistically significant benefits in bleeding and overall symptom improvement in acute HD and in bleeding after hemorrhoidectomy.
ROLE OF MICRONIZED PURIFIED FLAVONOID FRACTION (MPFF) IN HEMORRHOIDAL DISEASE
Micronised purified flavonoid fraction (MPFF)is a flavonoid-based venoactive preparation. It is composed of 90% micronized diosmin and 10% other active flavonoids like hesperidin, diosmetin, linarin and isorhoifolin. MPFF has significantly diverse anti-inflammatory, antioxidant, and venoprotective actions, which form the basis of its beneficial clinical effects [8]. As venous pathologies and reduced venous return play prominent roles in HD, these actions of MPFF provide the basis for its use in treating HD.
MECHANISM OF ACTION OF MPFF
MPFF acts by modulating noradrenergic signaling and reducing norepinephrine metabolism [9]. This action improves venous tone and lymphatic drainage and significantly reduces capillary hyper-permeability and improves capillary resistance in patients with abnormal capillary fragility, leading to additional improvement of microcirculation [10-13].
CLINICAL EFFICACY OF MPFF AS AN ADJUNCT TO SURGICAL AND NONSURGICAL PROCEDURES
Several clinical trials have investigated the benefits of MPFF treatment in combination with surgical or nonsurgical techniques to treat HD.
MPFF treatment as an adjunct to surgical procedures: Lee et al. assessed the effects of MPFF compared with placebo on bleeding, pain, purulent discharge, and anal discomfort after closed hemorrhoidectomy [14]. Results suggest that postoperative MPFF therapy reduces the severity of symptoms, including bleeding, and shortens the recovery period.
Colak et al. assessed the severity of pain with or without MPFF treatment after hemorrhoidectomy using a 10-point visual analog scale [15]. On days 2, 3, and 7 after surgery, pain severity, the need for analgesics, and the number of patients requiring analgesia was significantly lower in the MPFF group than in the control group.
La Torre et al. evaluated MPFF for relief of symptoms in 50 patients who underwent a Milligan–Morgan hemorrhoidectomy [16]. On the third day after surgery, intensity scores for bleeding, pain, tenesmus, and pruritus were significantly lower in the MPFF group than in the control group.
Mlakar et al. enrolled consecutive patients with grade III-IV hemorrhoids undergoing closed hemorrhoidectomy over a period of two years. [17]
The duration of self-assessed bleeding on defecation was significantly shorter for the MPFF treatment group (3.5 days) than for the control group (4.7 days), with no major complications in either group.
Data from the studies above affirm that treatment outcomes in patients undergoing hemorrhoidectomy were significantly better for those who received MPFF than those who did not. These results indicate that MPFF is effective in the relief of bleeding postoperative period in patients undergoing hemorrhoidectomy.
MPFF treatment as an adjunct to nonsurgical procedures: MPFF has also been studied as an adjunct to nonsurgical procedures, including infra-red coagulation (IRC), RBL, and sclerotherapy.
Ho et al. evaluated treatment with MPFF, RBL, and laxative ( ispaghula husk; LAX) in 162 patients with grade I bleeding hemorrhoids [18]. The bleeding stopped earliest in the LAX/MPFF group (at a mean of 3.9 days, vs 5.6 days in the LAX/RBL group and 10.6 days in the LAX-only group).
Shelygin et al. assessed the duration and severity of pain and discomfort after sclerotherapy in 124 patients with grade I−III hemorrhoids treated with or without adjunctive MPFF [19]. Findings suggest that MPFF treatment resulted in statistically significant relief of pain by day 3 and of discomfort by day 7 after sclerotherapy.
Key takeaway

Based on the available clinical evidence, current national and international guidelines, and extensive clinical experience in treating HD patients, it is evident that oral MPFF treatment is appropriate and effective for all grades of HD. Systematic Reviews show that MPFF has significantly reduced bleeding and improved pain, pruritis, anal discomfort, tenesmus, anal discharge or leakage, and edema in patients with acute HD compared to placebo. The Association of Colon & Rectal Surgeons of India (ACRSI) also recommends MPFF for the treatment of symptomatic hemorrhoids along with diet and lifestyle modifications. [20]
This Piles Day Let's Vouch to strike the Core of Hemorrhoidal Disease. To get more information about Piles / Hemorrhoids ranging from Diagnosis to Management click on the Link Below.
https://medicaldialogues.in/world-piles-day
References:

1. Júnior, C. W. S., de Almeida Obregon, C., & e Sousa, A. H. D. S. (2020). A New Classification for Hemorrhoidal Disease: The Creation of the "BPRST" Staging and Its Application in Clinical Practice. Annals of Coloproctology, 36(4), 249.
2. Kaidar-Person, O., Person, B., & Wexner, S. D. (2007). Hemorrhoidal disease: a comprehensive review. Journal of the American College of Surgeons, 204(1), 102-117.
3. Margetis, N. (2019). Pathophysiology of internal hemorrhoids. Annals of gastroenterology, 32(3), 264.
4. Gallo G., Sacco R., Sammarco G. (2018) Epidemiology of Hemorrhoidal Disease. In: Ratto C., Parello A., Litta F. (eds) Hemorrhoids. Coloproctology, vol 2. Springer, Cham. https://doi.org/10.1007/978-3-319-53357-5_1
5. Shafik A. (2009) Surgical Anatomy of Hemorrhoids. In: Khubchandani I., Paonessa N., Azimuddin K. (eds) Surgical Treatment of Hemorrhoids. Springer, London. https://doi.org/10.1007/978-1-84800-314-9_2
6. Margetis, N. (2019). Pathophysiology of internal hemorrhoids. Annals of gastroenterology, 32(3), 264.
7. Sobrado Júnior CW, Obregon CA, E Sousa Júnior AHDS, Sobrado LF, Nahas SC, Cecconello I. A New Classification for Hemorrhoidal Disease: The Creation of the "BPRST" Staging and Its Application in Clinical Practice. Ann Coloproctol. 2020;36(4):249-255. doi:10.3393/ac.2020.02.06
8. Sheikh P, Lohsiriwat V, Shelygin Y. Micronized Purified Flavonoid Fraction in Hemorrhoid Disease: A Systematic Review and Meta-Analysis. Adv Ther. 2020;37(6):2792-2812. doi:10.1007/s12325-020-01353-7
9. Lyseng-Williamson KA, Perry CM. Micronised purified flavonoid fraction: a review of its use in chronic venous insufficiency, venous ulcers and haemorrhoids. Drugs. 2003;63(1):71-100. doi:10.2165/00003495-200363010-00005
10. Cotonat A, Cotonat J. Lymphagogue and pulsatile activities of Daflon 500 mg on canine thoracic lymph duct. Int. Angiol. 8(Suppl. 4), 15–18 (1989).
11. Mchale NG, Hollywood MA. Control of lymphatic pumping: interest of Daflon 500 mg. Phlebology 9, 23–25 (1994).
12. Behar A, Lagrue G, Cohen-Boulakia F, Baillet J. Study of capillary filtration by double labelling I131-albumin and Tc99m red cells. Application to the pharmacodynamic activity of Daflon 500 mg. Int. Angiol. 7(Suppl. 2), 35–38 (1988).
13. Galley P, Thiollet M. A double-blind, placebo-controlled trial of a new veno-active flavonoid fraction (S 5682) in the treatment of symptomatic capillary fragility. Int. Angiol. 12(1), 69–72 (1993).
14. Lee HW, Lee WY, Chun HK. Clinical effects of VenitolR on complications after hemorrhoidectomy: prospective randomized and placebo-controlled trial. J. Korean Soc. Coloproctol. 14(4), 761–766 (1998)
15. Colak T, Akca T, Dirlik M, Kanik A, Dag A, Aydin S. Micronized flavonoids in pain control after hemorrhoidectomy: a prospective randomized controlled study. Surg. Today 33(11), 828–832 (2003).
16. La Torre F, Nicolai AP. Clinical use of micronized purified flavonoid fraction for treatment of symptoms after hemorrhoidectomy: results of a randomized, controlled, clinical trial. Dis. Colon Rectum 47(5), 704–710 (2004).
17. Mlakar B. Flavonoids reduce bleeding after closed haemorrhoidectomy - prospective randomized controlled trial. Eur. Surg. 40(1), 34–36 (2008).
18. Ho YH, Tan M, Seow-Choen F. Micronized purified flavonidic fraction compared favorably with rubber band ligation and fiber alone in the management of bleeding hemorrhoids: randomized controlled trial. Dis. Colon Rectum 43(1), 66–69 (2000).
19. Shelygin YA, Blagodarny LA, Kostarev IV. The efficacy of Detralex in the prevention of complications after hemorrhoid sclerotherapy (in Russian). Koloproctologiya 1(11), 16–20 (2005).
20. Agarwal N, Singh K, Sheikh P, Mittal K, Mathai V, Kumar A. Executive summary - The Association of Colon & Rectal Surgeons of India (ACRSI) practice guidelines for the management of haemorrhoids-2016. Indian J. Surg. 79(1), 58–61 (2017)