Tamil Nadu Stipend Hike: CRRIs to get Rs 20,000, PG, SS medicos also get raise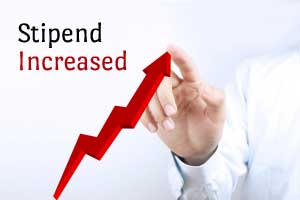 The payment will be with effect from April 2018
Chennai: Finding the demand for 'stipend hike' genuine, the state government has raised the salaries of medicos in Under-Graduate (UG), Post-graduate (PG) and super speciality courses. The hike has also been granted to nurses working on a contract basis.
Last year, more than 3,000 contract nurses struck work demanding higher pay scale. Whereas this June, PG students along with UG residents and super speciality students had given a call for a strike if the government does not increase their stipends.
At that time, Director of Medical Education, Dr A Edwin Joe informed that a study by his department revealed that house surgeons, PG students, and super speciality students were receiving the lowest in the state of Tamil Nadu.
Read Also: TN Medicos threaten to strike if PG, UG Medical stipends not raised
Agreeing with the observation, the state government finally granted relief to the medicos. State Health Minister C Vijayabaskar told TOI, "The salary revision was cleared by Chief Minister Edappadi K Palaniswami and the payment will be with effect from April 2018."
The New Indian Express reports the increase in the monthly stipend as follows:-


First Year PG degree students will get a raise from Rs 25,000 to Rs 35,000, Second year- Rs 26,000 to Rs 37,500, Third year -Rs 27,000 to Rs 40,000,


First-year PG diploma students will get a raise from Rs 25,000 to Rs 35,000, Second year- Rs 26,000 to Rs 37,500,


First-year higher speciality course students will get a raise from from Rs 30,000 to Rs  40,000, Second year - Rs 30,000 to Rs 43,500, Third, fourth, fifth and sixth year students-  Rs 30,000 to Rs 45,000.


Stipend of CRRIs will be raised from Rs 13,000 to Rs 20,000, also CRRIs and for non-service doctors- Increase of Rs 600 and Rs 1,000 annually.


Meanwhile, for the nurses working on a contractual basis, the state has nearly doubled their salary from a consolidated pay of Rs 7,700 per month to a take-home salary of Rs 14,000 per month.
"In addition to take-home pay, nurses will get benefits such as ESIC. They will also get a yearly hike of Rs 500," he said. The hike will benefit more than 12,000 nurses," Vijayabaskar said.
Read Also: 7000 Government Doctors in Tamil Nadu to finally be re-designated, promoted as per MCI Norms