Telangana: RIMS student threatens suicide over alleged molestation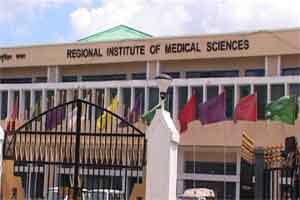 Adilabad: An second year MBBS student at
RIMS h
as  threatened to take her life after an alleged molestation by a doctor of the institute at his private clinic. The threat to commit suicide took place on 30
th
July, when the girl threatened that she would jump of the building premises.
The Institute's Director  K. Ashok  revealing details about the incident told the media that the student had gone to the said doctor's private practice for the treatment of an ailment that she had been suffering from. It was here that she alleged she was molested by the doctor, while on the examination table.
The RIMS authorities however,came to know that the victim is suffering from a psychiatric ailment, due to which she was referred to the Erragada Mental Hospital in Hyderabad. According to the authorities she was sent with a police escort. However, they state that she managed to return to the institute, by getting away from the mental hospital.
The
RIMS
authorities then went onto call her parents over and handed the girl's charge to them. A concerned medico questioned the act saying," The question is should the accused doctor be absolved without a proper inquiry; and, do persons with psychiatric illnesses tend to make accusations based on lies."
Another confidante of the victim earlier revealed, "The girl was perturbed and had voiced her wish to commit suicide to her friends in the hostel, a few times.' This statement the friend claims was given to her after the episode at the clinic.