................................ Advertisement ................................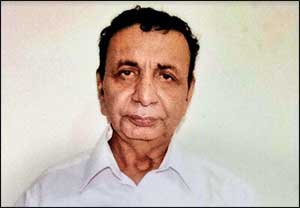 THANE: A Thane doctor who reportedly won a Gold medal in medicine and also taught medical students at a Lucknow medical college has now made headlines after the police arrested him on account of Rs 1000 crore Market Fraud
Media reports state that Dr PPR Sethi (Dr Prithipal Ramsingh Sethi), a 63-year-old doctor from the area cheated with the many investors and the general public of an amount of Rs 1000 crore by promising them of lucrative investment schemes.
The alleged accused, who is originally a resident of Mumbai, was working as a lecturer at a medical college in Lucknow but later left the job to start his own business and set up an investment firm inTumgaon, police said
TOI reports that the doctor used to set up fake lottery schemes and fly-by-night companies, lure investors with advertisements, and then disappear with their money to start the racket at another location.
To begin with, he furnished three fake companies —Jag Polymers, Jio Shine Mines & Metals, and Milani Techno Engineering. "He used to make his servant's directors of his companies," superintendent of police Santosh Singh from Mahasamund, Chhattisgarh informed the daily.
................................ Advertisement ................................
Sethi set up several 'companies' across the country, including in Assam, Tripura, Orrisa, West Bengal, Uttar Pradesh, and Jharkhand.
When he did this in Chhattisgarh in 2015 for a large sum, the police went in pursuit of him in earnest. On the run for about two years, he was picked up recently from Thane railway station.
"We believe he siphoned off over Rs 1,000 crore from thousands of investors," said a police officer from the Thane crime branch.
Senior inspector Nitin Thakre told TOI, "Upon carrying a thorough search and sourcing information from informers, we found that he lived in a 1 lakh sq ft godown in Jogeshwari (west). The godown had heavy machinery, which Sethi used to install to convince investors about his 'firm'.
A case under sections 420, 409 read with 34 of Indian Penal Code and also sections 3 and 4 of the Prize Chits and Money Circulation Scheme Banking Act, 1978 had been registered with the Tumgaon Police station of Mahasamundh district in Chhattisgarh on December 21, 2015, against the Dr Priti Paul Ramsingh Sethi.  One of his company Tago retail Marketing Ltd. also figured on the list of firms blacklisted by SEBI in 2015
A local court has now remanded him to police custody till 6th February 2018. The Thane Police are in the process of handing him to their counter-part in Mahasamundh, agencies report
Studied at Indraprastha College for Women (Delhi University), completed in year 2014. Currently working with Medical Dialogues, a online Medical news paper dedicated for healthcare Professionals.
................................ Advertisement ................................
6 comment(s) on Thane: Doctor arrested for Rs 1000 crore fraud