The Trauma Doctor - Prof. Dr MC Misra, Former Director AIIMS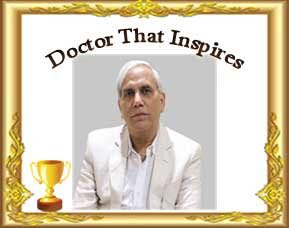 Professor Mahesh Chandra Misra was associated with AIIMS for good 37 years before laying office on  31st January 2017. While most people know him as the Director of AIIMS, New Delhi, one of his greatest contribution has been towards the creation and the development of the AIIMS trauma Centre (Jai Prakash Narayan Apex Trauma Centre), one of the main point of contact to provide state of the art compassionate patient care to all acutely injured patients and those requiring its specialised services.
He is a man who is truly responsible for establishment of Apex Trauma Centre at AIIMS from scratch. He had early vision and the realization that trauma was going to be a major public health problem in coming time and in fact AIIMS trauma centre was his dream child which was conceived as early as 1981. Prof. Misra was awarded Commonwealth Medical fellowship in 1988 to undergo training in "Trauma Care Services" at the Hope Hospital, University Of Manchester, U.K. and he returned to AIIMS in October 1989 with lots of new ideas, energy and enthusiasm. After coming back he actively propagated idea of creation of a Trauma Centre for AIIMS.
The journey to build the trauma centre was not an easy one. Although, it was initially envisaged under AIIMS ambit but due to administrative issues, it was given out of AIIMS in 1990-91, when CATS was created. At this stage, Prof. M C Misra approached the then Secretary Of Health, Govt. of India convincing him that it should remain with the AIIMS, if this project has to be realized successfully. The efforts paid off, and subsequently, the Trauma centre project was brought back to AIIMS. The construction of AIIMS trauma Centre began in late eighties and early ninties. Initially, it was a meager budget allocation of  Rs. 35 crores only , which was  revised to Rs. 138 Crores after two years of stoppage of work. The construction work was completed in 2005 after which faculty, Nurses and other staff were recruited but the centre could not be made functional.
Prof. M C Misra was entrusted with the responsibility of  Chief of the J P N Apex Trauma centre by the then Director, AIIMS-Prof. P Venugopal. When he took over the charge, there was no electricity or water, no furniture or equipment or instruments and no manpower was deployed. It was an arduous task to make a beginning but this challenge  enthused him to build teams and coordinate between the HSCC and  Contractors.With his exceptional administrative and organizational skills and invaluable help of faculty of 26 ,he created a success story over a short period of time. J P N Apex Trauma Centre soon became household name and a facility to reckon with for providing coordinated and protocolised  care to severely injured patients. At present Trauma centre, AIIMS is providing mentorship to various upcoming  Trauma care Facilities  at new AIIMS being established in the country under PMSSY.
Prof. Mishra possesses multifaceted interests and abilities; who besides being a leading Surgeon of the Country and excellent Researcher, has incredible administrative capability. AIIMS witnessed tremendous progress and development during his tenure as Director. He was awarded Commonwealth Medical fellowship in 1988 to undergo training in Trauma Care Services, Dr. B C Roy National Award of the MCI in 1996 for Developing Specialty of Minimally Invasive surgery in the Country, Fellowship Of the Royal college of Physician and Surgeons, Glasgow and National Academy Of Medical Sciences, New Delhi in 2005.
He has been awarded Honorary Fellowship of the Royal College Of Surgeons, Glasgow, UK in 2012 and Hon. Doctorate from Amity University in 2016.  He was invited by the Royal College of Physicians and Surgeons, Glasgow, U.K. to deliver a Key-Note on "Trauma: An Epidemic Of 21st Century: Approach to Trauma care – National & International Perspective" on 8th June 2017.
In May 2017, he has been conferred with the Honorary Fellowship from the Royal College of Surgeons, Edinburgh, UK, recognizing his professional achievements over past 37 years at AIIMS.
Prof. Misra has been a true visionary, who has the potential to look beyond visible.It was his dream to create a trauma Centre of AIIMS with Ultra Modern   Multidisciplinary facilities of trauma care under one roof which he successfully realised despite all odds and at the cost of his comforts and  personal life. He strongly believes that "It's only after you've stepped outside your comfort zone that you begin to change, grow, and transform." I bow before  him for  his unending zeal and his story   inspires me to be persuasive  and persistent in my efforts in journey  towards my goal  and not be disheartened and deterred  by  any impediment on the way.
Nominated By- Dr Lalit Singh,  Director, Content and Product Strategy for 
Elsevier
 Health
Story By- Dr Kamal Kant Kohli, Editor, Speciality Medical Dialogues