Tripura cabinet minister visits hospital after CMO threatened by goons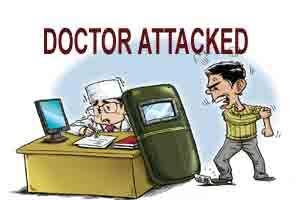 Ambassa: Taking note of the complaints of the Sub Divisional Medical Officer (SDMO), the Cabinet Minister of Tripura Manoj Kanti Deb and the Chief Medical Officer (CMO) of the district visited the hospital in the bordering subdivision of Kamalpur in the northern Tripura district of Dhalai here today.
Recently, the SDMO Dr. Bidhan Das alleged that some miscreants and goons from the ruling BJP have been threatening him with dire consequences and he was forced to seek police protection to ensure his safety. Manoj Kanti Deb along with CMO Dr. Saradindu Riang visited the hospital to examine the matter and assured the doctor that he was safe and steps would be taken to ensure his safety. The BJP Kamalpur Mandal President Prashanth Sinha also gave assurance that the culprits would be dealt with.
Later in the evening, the CMO said over the telephone that the administration was looking into the matter and care would be taken to ensure there was no interruption in the health services.
The CMO has, however, questioned why only one doctor has been continuously facing issue whereas no such complaints have been raised by the other doctors in the hospital.