Trolled: Assam health minister faces criticism for reveling identity of 'Modicare' beneficiaries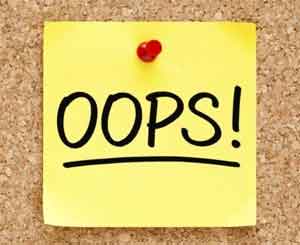 New Delhi: While all are celebrating the launch of the largest healthcare scheme in the World -Ayushman Bharat –Pradhan Mantri Jan Aarogya Yojana (AB-PMJAY), the celebrations took a negative turn for Assam health minister, Himanta Biswa Sarma who drew flak from twitteraties on account of sharing details of the beneficiaries on twitter
Celebrating Ayushman Bharat, the minister took to Twitter to write , "It's heartening to share that within 24 hours of its launch we have given benefits of Ayushman Bharat to 21 needy patients across different hospitals in Assam. Likely rise in numbers from Tuesday." This was accompanied by the list of 21 names of the beneficiaries.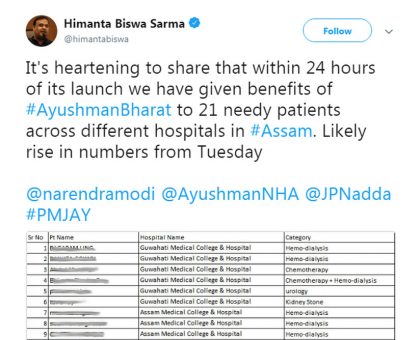 Mr Sharma shared the name and medical issues and hospital and seeking treatment for various ailments by the patient under AB-PMJAY. Reacting to his tweet, people trolled him, alleging that he has violated the right to privacy of the patients availing the treatment under the scheme. Later, the tweet was removed from his page.



This is absolutely ridiculous! How can you share private personal health information like that! If you were in Europe or US you would have been saying goodbye to your chair and probed!


— Asif (@Asif_DrMed) 24 September 2018



Insensitive & irresponsible to publish private info of patients. Would you like names & illnesses of own family published like this? The scheme, like any other, is good ONLY if introduced with right intent & delivered well; not if used solely to make political capital.


— Raj (@50raj66) 25 September 2018



Is this not violation of privacy to publish patient names with their medical issues and hospital on social media? Have they consented to this? #AyushmanBharatYojana


— Vijaya Moorthy (@vmoorthynow) 25 September 2018



First you can't share this. Second we're these services at the Guwahati medical college not free earlier?


— Suma (@sumatweet) 25 September 2018



Shame @himantabiswa basic data privacy not maintained,so much for aadhar data safety ? @ProfCong @AIPCAssam @ShashiTharoor @rajeevgowda @INCIndia Since there is no law, there is no fear-else this dude would be behind bars for displaying patient info-2include in #2019 manifesto


— Anand Mathews (@anandmathews) 25 September 2018



Good job! I'm sure these 21 innocent people wanted the whole world to know they had some medical issues!!!


Don't you guys have any sense? The extent you guys go to for cheap publicity - it's sickening!!!?

— O҉l҉d҉ ҉M҉o҉n҉k҉ (@0ld_Monk) 25 September 2018



Patient info on social media? You seriously need to learn what privacy means.


— NAVEEN SODEM (@nisar_naveen) 25 September 2018
Similar mistakes were made by other government officials as well. According to the
Deccan Chronicle
report, that Dr. Dinesh Arora, Deputy CEO of Ayushman Bharat, tweeted, "Five patients admitted in Ranchi Institute of Medical Sciences for urology and cystoscopy. Privileged to be part of the team implementing this mission (sic)." Along with the screenshots of the patients' names, ailments and assigned doctor, from Excel sheets.
Medical Dialogues had recently reported that the health ministry through NHRC is trying to implement the charters of patients' rights. The draft of the same states
"All patients have a right to privacy, and doctors have a duty to hold information about their health condition and treatment plan in strict confidentiality unless it is essential in specific circumstances to communicate such information in the interest of protecting other or due to public health considerations. All data concerning the patient should be kept in secured safe custody and insulated from data theft and leakage."
Read Also: MUST READ: Health ministry releases Draft Patient Charter, invites comments
Prime Minister Narendra Modi launched AB-PMJAY, popularly known as 'Modicare' that targets more than 50 crore beneficiaries. It launched on Sunday 24 September from Ranchi, Jharkhand.