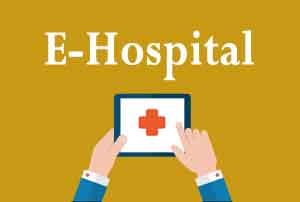 Lucknow: Moving ahead in the world of digitization, the Uttar Pradesh Government recently announced to open 100 new e-hospitals where all the paperwork- from registration to reports will be available online.
The E-hospitals are expected to be extremely helpful to the general public in generating all patient-related information including registration, medicines, investigation reports etc at one stop. Under this arrangement, the paper will not be used for all the written information.
Speaking to News18 in Allahabad, Health Minister Siddharth Nath Singh said, "The first E-Urban PHC was inaugurated in Dhumanganj area of Allahabad today. All the latest medical facilities will be available for the patients at this E-Urban PHC and they will not have to go to private hospitals anymore."
In the first phase, work has started for E-Hospitals at Dr. Ram Manohar Lohia Hospital in Lucknow and Dr. Shyama Prasad Mukherjee Civil Hospital in Lucknow. Besides this, two urban primary health centres in the capital's Jiamau and Ujariyaon have been fully digitised. Some services have been made online at the civil hospital and in the coming days, preparations are going on gradually to make all the facilities online.
E-Hospitals provide the benefit of streamlined operations, enhanced administration and control and improved response to patient care, cost and all of the above save time. With the process of E-hospital, the doctors are able to retrieve every patient's information including history,  prescription, test reports, etc from the software quickly while checking the patient with his/her unique patient's registration ID. This allows patient to seek treatment easily without having to carry all the documents everytime they visit the doctor.
0 comment(s) on UP goes digital: 100 E-hospitals announced