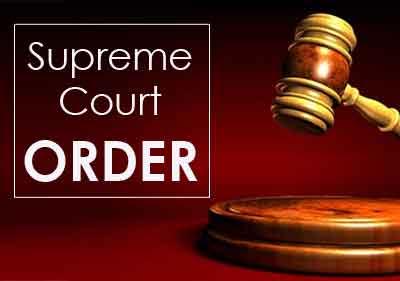 SC grants benefit of additional marking in admission in various PG courses to doctors in UP
In a significant verdict, the Supreme Court on Tuesday upheld the Allahabad High Court judgement quashing Uttar Pradesh government's order to provide 30 per cent quota in admissions to post-graduate medical courses to those doctors in government service who have served in rural areas.
A bench headed by Chief Justice T S Thakur, however, held that "incentive marks" of up to 30 per cent of total marks can be awarded to "eligible in-service" doctors in admission tests for PG Medical courses, as provided in the Medical Council of India Post Graduate Medical Education Regulations 2000, if they have served in rural areas.
"We must hold that the High Court was justified in quashing the state government order providing for reservation to in-service candidates, being violative of Regulation 9 as in force.
"However, we modify the operative direction given by the High Court and instead direct that admission process for Academic Year 2016-17 onwards to the Post Graduate Degree Course in the State should proceed as per Regulation 9 including by giving incentive marks to eligible in-service candidates in terms of proviso to Clause IV of Regulation 9 (equivalent to third proviso to Regulation 9(2) of the Old Regulations reproduced in the interim order dated 12th May, 2016).
"We, accordingly, mould the operative order of the High Court to bring it in conformity with the direction contained in the interim order dated 12th May, 2016 but to be made applicable to Academic Year 2016-17 onwards on the basis of Regulation 9 as in force…," the bench, also comprising Justices A M Khanwilkar and D Y Chnadrachud, said.
The judgement came on a batch of petitions including those filed against the High Court verdict. The High Court had quashed the government order (GO), issued on February 28, 2014 by which 30 per cent seats in post-graduate degree courses in medicine and other disciplines were reserved for in-service candidates who had three years or more of rural service in notified and difficult areas.
It had held that the state government by an executive order could not "change the method of selection for admission of candidates for post-graduate courses in medical science so as to violate or dilute the regulations framed by the MCI in exercise of its statutory powers."
Justice Khanwilkar, writing judgement for the bench, said the court was "conscious of the fact" that the verdict will affect some candidates whose applications have already been processed by the competent authority for admissions in PG courses for academic year 2016-17.
"However, their admissions cannot be validated in breach of or disregarding the mandate of Regulation 9, as in force," the bench, in its 55-page verdict, said.
The apex court said the quota in admissions in medical PG courses is not allowed under the Act or regulations. However, incentive marking or "extra weightage" can be given to those government doctors, having MBBS degree, to promote rural health care, it said.
"The purpose behind proviso (9) is to encourage graduates to join as medical officers and serve in notified remote and difficult areas of the state. The fact that for quite some time no such appointments have been made by the state government also cannot be a basis to disregard the mandate of proviso to Clause IV – of giving weightage of marks to the in-service candidates who have served for a specified period in notified remote and difficult areas of the state…
"The state governments across the country are not in a position to provide health care facilities in remote and difficult areas in the state for want of doctors. In fact, there is a proposal to make one year service for MBBS students to apply for admission to Post Graduate Courses, in remote and difficult areas as compulsory.
8 comment(s) on UP: Join rural service, get extra incentive marks for PG, orders Supreme Court