UP Sting Operation: Govt Radiologist caught performing ultrasound at Private Hospital during duty hours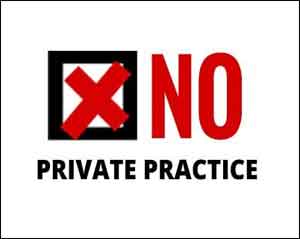 Bareilly: A radiologist associated with a  government mental hospital in the area was caught red-handed practising at the private hospital during his duty hours when a team led by the additional chief medical officer (ACMO) Dr Ranjan Gautam, performed raid at the hospital.
The action came after the authorities received a series of complaints against the doctor in the past three months that he was practicing in different private hospitals performing ultrasounds and not at the government hospital. The authorities led by the ACMO then decided to investigate the matter.
In a conversation with TOI, ACMO narrated the whole scenario. He informed that got to know about the detailed information regarding his time of visit to the private hospitals, the colour and registration number of his car and all other relevant information through the complaints filed against him.
"I started following him. On Monday afternoon, I was waiting for him outside a private hospital. When he entered the hospital, after a few minutes, I too entered the ultrasound lab on the first floor and found him performing an ultrasound on a female patient," Dr Gautam stated it to TOI.
"When I introduced myself, he said he was not performing ultrasound and it was being performed by the owner of the hospital. When we met the owner, she said the doctor was their senior doctor, and even they had been learning how to carry out ultrasound on patients from him," he added.
The ACMO has now forwarded the report to the CMO of the area for further action adding that the doctor already receives non-payment allowance from the government
Confirming the development regarding the report, CMO informed TOI, "I am yet to seek the doctor's explanation. Since he doesn't come under my jurisdiction, I will seek a report from the director of the mental hospital about his services to the hospital. It's a serious matter."