Rare case of Cardiorenal Amyloidosis reported in JAPI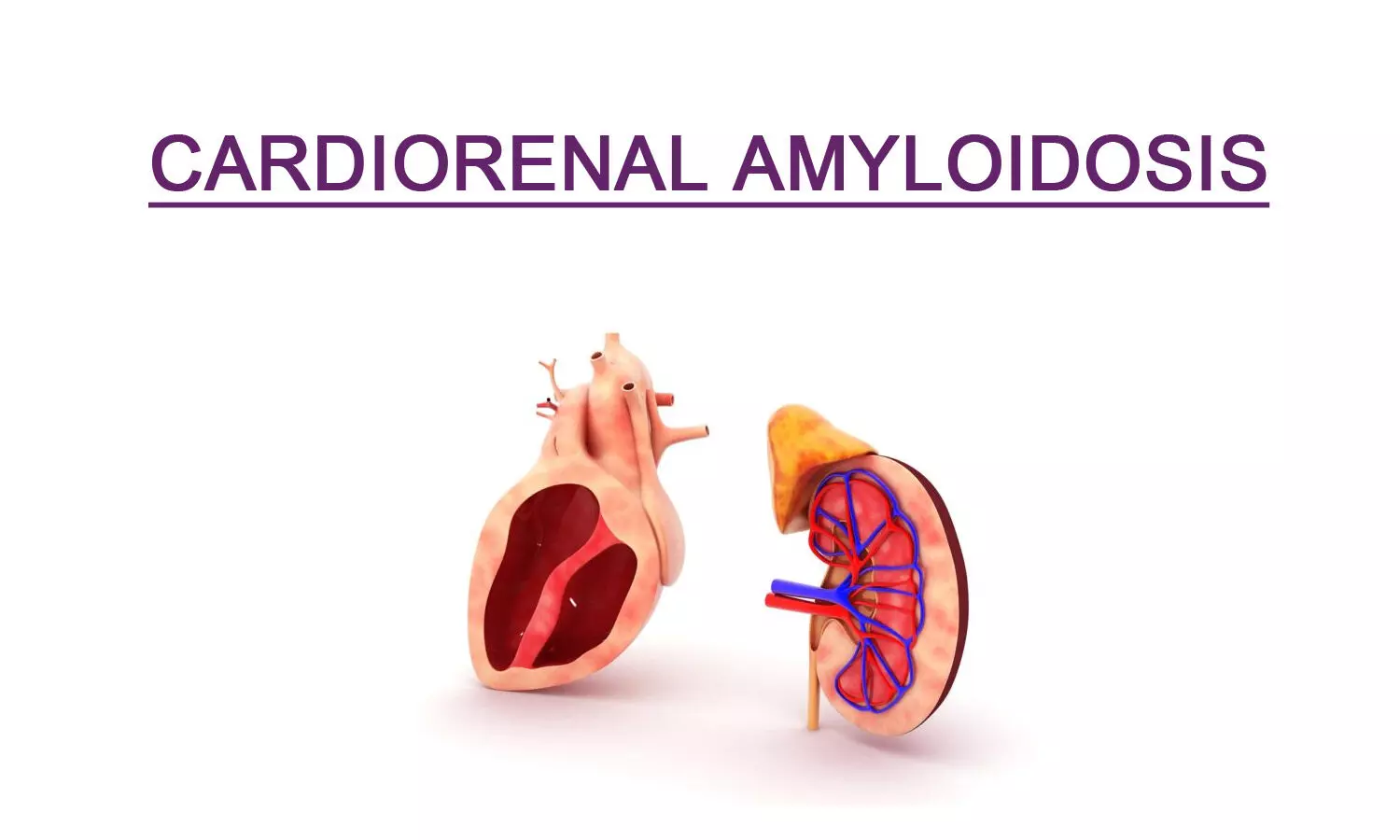 Dr R Anand Senior Consultant, Radiology, Max Superspeciality Hospital, Saket, New Delhi has reported a case of Cardiorenal Amyloidosis which has been published in the Journal of the Association of Physician of India.
Amyloidosis is a conglomeration of diseases due to production and deposition of amyloid, a proteinaceous substance, into organs, tissues, nerves and other places in the body affecting their normal function. It is a rare systemic disease with an incidence of 8.9 per million population. It was first described by Rudolph Virchow in 1854. Amyloidosis (earlier called Primary Amyloidosis) is a light chain disease of the bone marrow affecting men more than women and age group 50-80 years of age.

According to the history a 65 year old gentleman, resident of Madhubani district, Bihar was admitted with chief complaints of swelling in both lower limbs gradually increasing for 2 months associated with heaviness in legs. He also had shortness of breath, dizziness, fatigue and passage of frothy urine for the same duration. No history of fever, reduced urine output, hematuria, dysuria, nausea, diarrhoea, constipation, loss of weight and appetite, numbness, tingling, hypertension, diabetes, tuberculosis, asthma, previous hospitalizations.
On examination the patient was alert, conscious, oriented with no pallor, cyanosis, clubbing, icterus, lymphadenopathy. He was afebrile, pulse 68/min, BP 100/60mmHg, RR 16/min. He had bilateral pitting edema. On auscultation of the chest there were bilateral crepitations; cardiovascular examination soft S1 and S2 with pansystolic murmur radiating to the axilla and no thrill. Per abdomen examination showed parietal edema and no neurological findings on examination.
The patient was investigated Table 1. Hemogram showed normal leucocyte count (10,000), raised ESR (38). RBS normal (76), LFT showed hypoalbuminemia (OT/PT 52/60,TP 6, Alb 2.2, Glob 3.8, A/G.5/1,), KFT was normal (B. urea 22 , s. creatinine.9). Coagulation and Thyroid profile was normal. Nephrotic range proteinuria (albuminuria-8.514) His Chest X-ray was normal and Ultrasound showed hepatomegaly with Benign prostatic hypertrophy and left kidney cyst. CT abdomen showed mild hepatomegaly with bilateral pleural effusion and diffuse abdominal wall edema.
The patient was further investigated Table 2 which showed hyponatremia and proteinuria. To rule out Multiple myeloma, serum and urine protein electrophoresis were done which showed no M spike. Kappa and lambda light chains in serum and urine were sent and were normal. In view of the systolic murmur, ECG and Echocardiography was done. ECG showed low voltage complexes. Echocardiography showed no regional wall motion abnormality of left ventricle. Global LVEF 60%, moderate concentric left ventricular hypertrophy, increased myocardial echogenecity ?infiltrative cardiomyopathy ?amyloidosis, LA high normal, mild MR and trace TR, Grade 1 diastolic dysfunction (E/E' >15) and minimal pericardial effusion and no intracardiac clot/vegetation (Figures 1, 2, 3).
He was advised a cardiac MRI which revealed left ventricular concentric hypertrophy showing diffuse delayed enhancement consistent with amyloidosis, normal LV systolic function, bilateral minimal pleural effusion, mild MR and trace TR (Figures 4, 5, 6). In view of continuing proteinuria, he was advised a kidney biopsy. The biopsy showed nephrotic syndrome with AL amyloidosis (Figure 7). Bone marrow aspiration was also done to rule out Multiple myeloma showed focal marrow lymphoplasmacytosis (focally increased lymphocytes upto 60% and focally increased plasma cells upto 6-8%) (Figure 8). Bone marrow biopsy was advised. Bone marrow immunofixation showed hypercellular marrow for age with scattered plasma cells. Congo red staining showed typical apple green birefringence (Figure 9). Patient was given symptomatic treatment in form of diuretics and planned for traditional chemotherapy.
For more detail click on the link: www.japi.org
Source : Journal of the Association of Physician of India