Mirabegron may be treatment of choice in OAB after failure of antimuscarinic therapy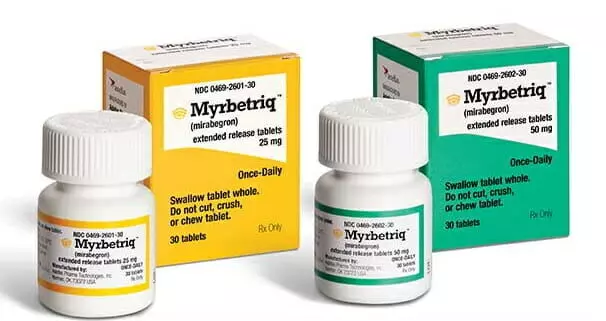 Overactive bladder is highly prevalent in men. Lower urinary tract symptoms (LUTS) and overactive bladder with (OAB-wet) or without (OAB-dry) urgency incontinence are significantly prevalent problems for many, particularly adults in later life. A recent study suggests that the beta-3 agonist mirabegron has the most evidence for treating overactive bladder (OAB), in men after inefficacy or intolerability of antimuscarinic therapy at 8 to 12 weeks. The study findings were published in the journal EUROPEAN UROLOGY on January 02, 2021.

OAB-dry and OAB-wet are associated with adverse health and social outcomes for patients. OAB is often thought to predominantly affect women, although epidemiological studies suggest that its frequency is similar among community-dwelling adult men and women, at 16.0% and 16.9%, respectively. Indeed, OAB is more common among men than women aged ≥80 yr. Beta-3 agonists, botulinum toxin-A (BTX-A), and nerve stimulation are indicated in these patients. However, data on male patients in this clinical scenario are scarce. Dr Cosimo De Nunzio and team conducted a systemic review, to evaluate the evidence on treatment options beyond antimuscarinics in men with OAB.
PROSPERO trial was conducted by evaluating the database of PubMed, EMBASE, Scopus, Web of Science, Cochrane Central Register of Controlled Trials for relevant articles published between January 2000 and October 2020. Researchers performed the evidence acquisition according to Preferred Reporting Items for Systematic Reviews and Meta-analyses (PRISMA) guidelines. They included a total of 24 studies focusing on male patients with OAB.
Key findings of the study were
• Upon analysing five randomized clinical trials (RCTs) that included 1187 patients, the researchers noted that MIRA 50 mg was associated with a greater reduction in frequency versus placebo (–0.37).
• In 3 RCTs of 1317 men with OAB and benign prostatic hyperplasia taking the alpha 1-blocker tamsulosin, they observed that the addition of mirabegron 50 mg significantly reduced the mean number of daily micturitions per day by 0.27, urgency episodes by 0.50, and total OAB symptom score by 0.66 and significantly increased mean volume voided by 10.76 mL.
• The researchers noted that MIRA treatment was well tolerated in men. However, limited data existed on other pharmacological treatment options.
• They reported that BTX-A seems to be effective as third-line treatment in male OAB patients.
• They reported a high rate of intermittent self-catheterization (5–42%) was observed in male than in female patients.
The authors concluded, "MIRA has the most robust data in terms of safety and efficacy in this patient population. Preliminary data in men suggest that BTX-A is indicated as an interventional treatment. Evidence for PDE-5 inhibitors and nerve stimulation is too limited to provide recommendations."
They further added, " Future studies in this population should aim to better define the best treatment sequence and to identify predictors for treatment response and failure, to determine a therapeutic approach tailored to patients' characteristics."
For further information:
Article Source :
EUROPEAN UROLOGY