Neurovascular bundle preservation most important for post-prostatectomy urinary continence recovery: Study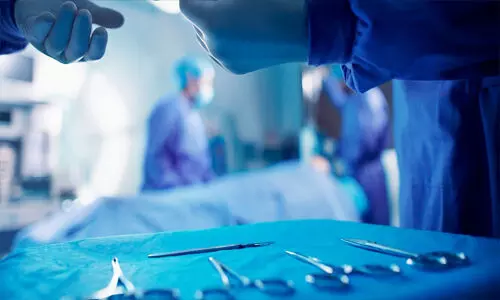 Delhi: A recent study in the Journal of Urology has suggested against the routine use of pelvic floor muscle training (PFMT) and duloxetine in patients who have undergone radical prostatectomy (RP). According to results from the IMPROVE trial, PMFT-BFB and duloxetine did not improve urinary continence recovery (UCR) after RP, and may negatively impact the quality of life. Neurovascular bundle preservation was found to be the only factor associated with recovery of urinary continence (RUC).
Urinary incontinence after radical prostatectomy is common. Retrospective series have shown PFMT and duloxetine to be effective in improving post-RP urinary incontinence. Rafael Sanchez-Salas and colleagues aimed to assess the efficacy of PFMT and duloxetine in urinary continence recovery after robot-assisted radical prostectomy (RARP).
For this purpose, the researchers designed a prospective, randomized controlled trial, IMPROVE, involving patients who experienced UI after RARP. Patients were randomized to 1 of 4 arms: (1) PMFT-biofeedback (BFB) only, (2) duloxetine only, (3) combined PMFT-BFB and duloxetine, and (4) control group.
The PMFT program consisted of pelvic muscle contraction exercises conducted with electromyographic feedback weekly, for 3 months. Patients in duloxetine arms were instructed to take oral duloxetine 60 mg at bedtime for 3 months.
The primary end point was continence rate at 6 months, defined as no leakage of urine during 3 consecutive days on the 24-hour pad test. Urinary symptoms and quality of life (QoL) were assessed by using a visual analog scale, the International Prostate Symptom Score questionnaire, and the King's Health Questionnaire.
Out of a total of 240 patients (60 in each arm) were included in the trial between 2015 and 2018. Overall, 89% of patients completed 1 year of follow-up.
The results of the study were found to be:
• From the patients allocated to receive treatment, it was found 58% (69 of 120) had properly taken duloxetine and 38% (46 of 120) performed at least 10 sessions of PMFT.
• In the control group 53% of patients had achieved continence at 6 months, compared with 35% (p=0.07) in the PMFT-BFB arm, 39% (p=0.2) in the duloxetine arm, and 27% (p=0.009) in the combined treatment arm, without difference in time to UCR.
• Moderate to severe urinary symptoms was found to be less frequent in the control group (11%) compared with treatment arms: 27% (p=0.03), 30% (p=0.01), 24% (p=0.07), respectively.
• At 6 months, QoL was qualified as uncomfortable or worse in 17% of patients in the control group, compared with 44% (p=0.02), 45% (p=0.01), and 38% (p=0.06) in treatment arms, respectively.
• After accounting for other variables, neurovascular bundle preservation was the only factor found to be associated with UCR (OR 3.5 [IQR 1.2-10.3]; p=0.02).
Salas and team concluded that "PMFT-BFB and duloxetine do not improve UCR after RP, and may have negative impact on QOL; therefore, they should not be routinely recommended to patients who have undergone RP. Neurovascular bundle preservation was the only factor found to be associated with RUC."
For further information: https://doi.org/10.1097/JU.0000000000002149.08
Source : Journal of Urology