Urinary Tract Infection and Role of Antibiotic Faropenem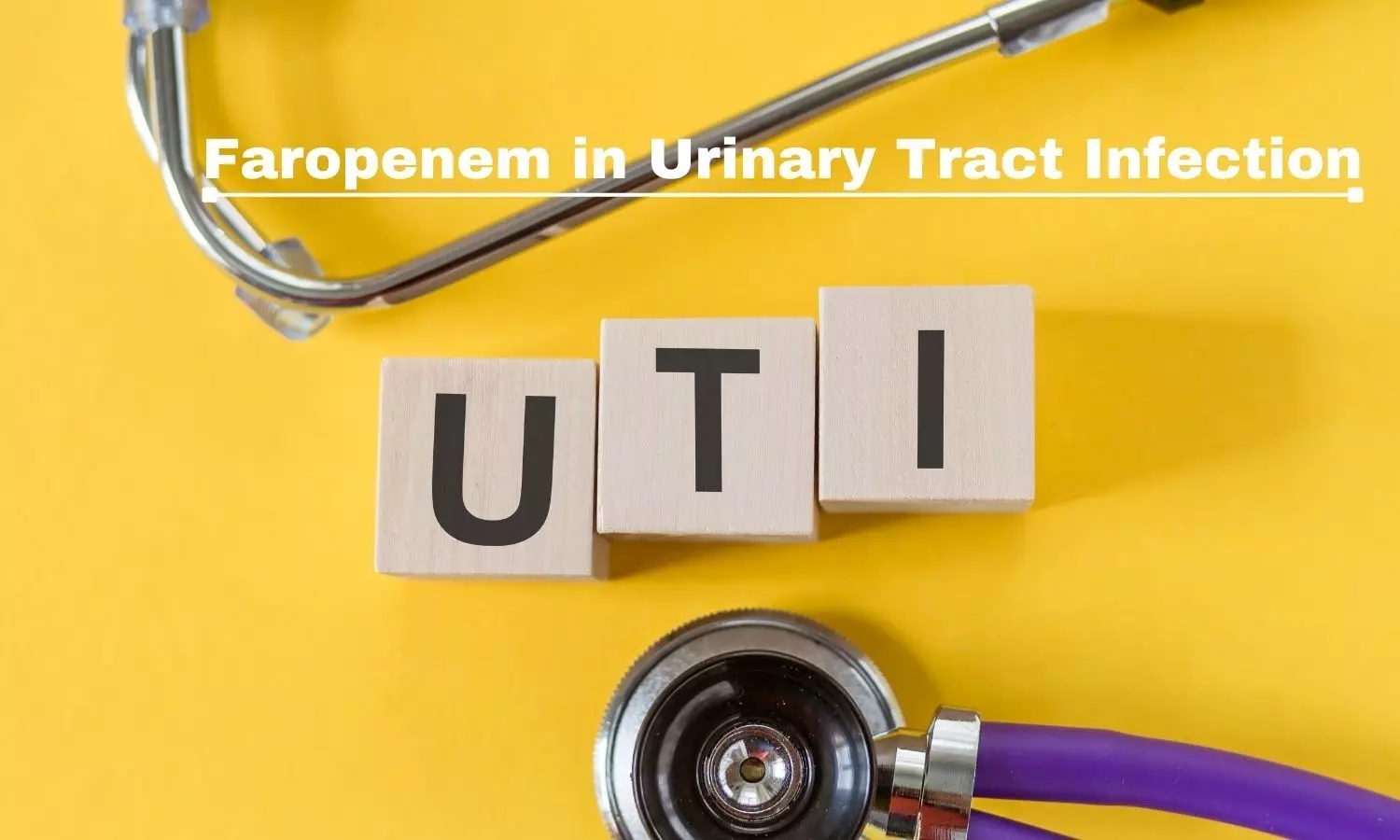 Urinary Tract Infections (UTIs) are among the most common infectious diseases encountered globally, posing a significant clinical and economic burden (1). UTIs are the most prevalent outpatient infections, too, with an adult female prevalence of 50-60% and a high recurrence rate of 20-40%. (2,3)If left untreated, UTIs can lead to substantial physical and psychological sequels, negatively affecting the quality of life. (2)
Though treatment is generally initiated with broad-spectrum antibiotics, fluoroquinolones, essential antimicrobial drugs used as a part of the empirical therapy in UTIs, have now been curtailed due to high resistance rates and toxicity patterns. (3) The scientific evidence supporting the consideration for use of Faropenem in UTIs is briefly reviewed.
Prudent Consideration for Newer Antibiotics: Analyzing the Rise of ResistantMicrobial Strains in UTIs-
Almost 95% of all UTIs are bacteriological in origin, the majority of which are E-coli (30 percent –90 percent, depending upon clinical settings). UTIs can also be caused by Klebsiella, Enterobacter, Proteus, Pseudomonas, Enterococcus, Staphylococcus, and other bacteria. (1)
Recent research has acknowledged that the increasing prevalence of urinary tract infections (UTIs) caused by drug-resistant isolates is becoming a significant public health problem. With studies revealing a drastic rise in Extended-spectrum beta-lactamase (ESBL) positive E. coli resistant to the traditionally used antimicrobials, managing these antimicrobial-resistant uropathogens has been challenging for the medical fraternity. (4)
UTI in the Indian scenario: Resistance in Need of Rescue
Following a similar trend, India has recorded a high spike in extended-spectrum-lactamase (ESBL)-producing microbes in recent years. (1) Affirming this, a significant study (3) aimed to determine the antibiotic susceptibility or resistance patterns of UTI patients in the Indian population. The study concluded that resistance to the standard medications used to treat UTIs had increased significantly over the years; therefore, a therapy based on individual culture reports and antibiotic sensitivity tests is highly recommended. The team also noted that the most commonly isolated uropathogens in the Indian population were E. coli and Klebsiella spp., with a prevalence of 49.6% and 12.8%, respectively. Other Indian studies have also reported decreasing sensitivity patterns of uropathogens to penicillin combinations, ampicillin, aminoglycosides, fluoroquinolones, and even third-generation cephalosporins. (3) With most of the key drug classes failing to act against UTIs focus has now drifted towards more individualized care. Faropenem, a unique antimicrobial agent against UTIs, has been the center of attention for some time now.
Decoding Faropenem: Distinctive Clinical Pharmacological Pointers
Faropenem is an antibiotic belonging to the "penems" class of lactam antibiotics. It is licensed in India to treat infections of the respiratory system, urinary tract, skin, soft tissue, and gynecological infections. (1) Equipped with a unique chemical structure, faropenem exhibits a distinctive microbiological spectrum of activity, pharmacology, clinical utility, and favorable safety profile.
Faropenem possesses comprehensive antibacterial activity against aerobic gram-positive, gram-negative, and anaerobic bacteria and is resistant to hydrolysis by nearly all β-lactamases, including extended-spectrum β-lactamases and AmpC β-lactamases. (6) Faropenem is bactericidal by nature and preferentially targets Penicillin-binding protein 2 (PBP2). It also has a high affinity for penicillin-binding protein 1A(PBP1A), penicillin-binding protein 1B(PBP1B), and penicillin-binding protein 3(PBP3). Faropenem demonstrates intrinsic stability to β-lactamases responsible for the hydrolysis and subsequent deactivation of the beta-lactam antibiotics. (6)
Faropenem in Urinary Tract Infections: Review of Clinical Global & Indian Evidence
Faropenem Efficacious Against Complex Cystitis Infections: A study aimed to evaluate the efficacy of faropenem (FRPM 200 mg three times a day for seven days) in acute cystitis caused by ESBL-producing E. coli concluded that faropenem showed promising results while achieving reasonable clinical cure rates. The team further pointed out that previous hospitalization, antibiotic exposure within six weeks, and Foley catheterization were significant risk factors for ESBL E-coli induced urinary tract infections, and starting faropenem could be considered when treating such patients in outpatient clinical settings. (7)
Faropenem Active Against ESBL producing E Coli: In nationwide surveillance in Japan, faropenem was one of the few antibiotics which had favorable results against ESBL-producing E. coli in patients with acute uncomplicated cystitis, with high susceptibility rates of 99 %. (8
Faropenem: Real World Indian Experience: Research reveals that faropenem has good activity against E. coli and Klebsiella spp. with ESBLs, which are the primary causative organisms for the development of complicated UTIs (cUTIs). A real-world Indian study aimed to assess the scope of faropenem in complicated UTIs (cUTI) revealed that faropenem is used, by urologists, as an effective drug for the management of cUTI and as a step-down therapy (66.4%); thus confirming the raising perception of faropenem among the urologists in the management of cUTI. The research team also elaborated that the increased use of faropenem was rationally based on its effectiveness, safety profile, and ability to combat the growing resistant strains (ESBL producers and other cephalosporin-resistant Enterobacteriaceae). (1)
Faropenem Superior in Seven Day Treatment Regime: Comparing a three vs. seven-day administration regimen of faropenem, a study by Ryoichi Hamasuna et al. highlighted that the seven-day regimen showed a superior microbiological response rate. The study noted no significant difference in safety between the three and 7-day treatment groups. (9)
Key pointers-
UTIs continue to be one of the most frequently encountered infections in the community, particularly within healthcare settings.
With growing resistance to conventional antibiotics, the burden associated with UTIs is rising.
Prompt initiation of appropriate antibiotics can lead to better clinical outcomes and reduce related morbidity.
Faropenem is a novel, broad-spectrum, penem-type antibiotic with stability against class A, C, and D β-lactamases.
An accumulating number of studies indicate that faropenem is an effective drug in a wide clinical spectrum of UTIs with high efficacy against ESBL-producing microbes.
Faropenem is favorably accepted by Indian urologists in the management of Urinary Tract Infections (UTIs).
References
1. Shah A, Sharma S, Unnikrishnan TK. Experience of Faropenem for the management of urinary tract infection: Real-world experience from India. IP J Urol Nephrol Hepatol Sci 2020;3(4):
2. Medina M, Castillo-Pino E. An introduction to the epidemiology and burden of urinary tract infections. Ther Adv Urol. 2019 May 2;11:1756287219832172. doi: 10.1177/1756287219832172. PMID: 31105774; PMCID: PMC6502976.
3. Faraz MAA, Mendem S, Swamy MV and Patil S: Prevalence of urinary tract infections and related antimicrobial resistance in india: a systematic review and meta-analysis. Int J Pharm Sci & Res 2021; 12(8): 4314-21. doi: 10.13040/IJPSR.0975-8232.12(8).4314-21.
4. Iskandar, K., Rizk, R., Matta, R., Husni-Samaha, R., Sacre, H., Bouraad, E., ... & Mostafa, I. (2021). Economic burden of urinary tract infections from antibiotic-resistant Escherichia coli among hospitalized adult patients in Lebanon: a prospective cohort study. Value in health regional issues, 25, 90-98.
5. Colgan, R., & Williams, M. (2011). Diagnosis and treatment of acute uncomplicated cystitis. American family physician, 84(7), 771-776.
6. Schurek, K. N., Wiebe, R., Karlowsky, J. A., Rubinstein, E., Hoban, D. J., & Zhanel, G. G. (2007). Faropenem: review of a new oral penem. Expert review of anti-infective therapy, 5(2), 185-198.
7. Fujino K, et al., The efficacy of faropenem for patients with acute cystitis caused by extended spectrum b-lactamase producing Escherichia coli, J Infect Chemother (2016), http://dx.doi.org/10.1016/j.jiac.2016.11.003
8. Hayami H, Takahashi S, Ishikawa K, Yasuda M, Yamamoto S, Uehara S, et al.Nationwide surveillance of bacterial pathogens from patients with acute uncomplicated cystitis conducted by the Japanese surveillance committee during 2009 and 2010: antimicrobial susceptibility of Escherichia coli and Staphy-lococcus saprophyticus. J Infect Chemother 2013;19:393e403.
9. Hamasuna, R., Tanaka, K., Hayami, H., Yasuda, M., Takahashi, S., Kobayashi, K., ... & Hongo, H. (2014). Treatment of acute uncomplicated cystitis with faropenem for 3 days versus 7 days: multicentre, randomized, open-label, controlled trial. Journal of Antimicrobial chemotherapy, 69(6), 1675-16 Dr Kamal Kant Kohli-MBBS, DTCD- a chest specialist with more than 30 years of practice and a flair for writing clinical articles, Dr Kamal Kant Kohli joined Medical Dialogues as a Chief Editor of Medical News. Besides writing articles, as an editor, he proofreads and verifies all the medical content published on Medical Dialogues including those coming from journals, studies,medical conferences,guidelines etc. Before Joining Medical Dialogues, he has served at important positions in the medical industry in India including as the Hony. Secretary of the Delhi Medical Association as well as the chairman of Anti-Quackery Committee in Delhi and worked with other Medical Councils in India. Email: editorial@medicaldialogues.in. Contact no. 011-43720751