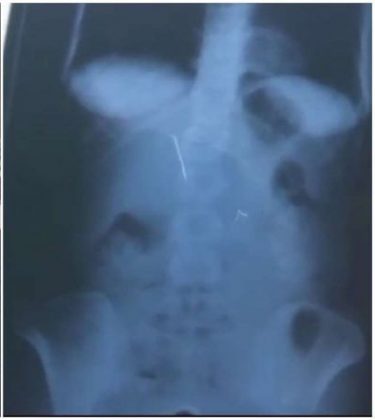 Varanasi: Three doctors at Sir Sunderlal Hospital of Varanasi's Banaras Hindu University (BHU) have been booked by the local police for allegedly leaving syringes inside a woman's body while she underwent an operation for surgical sterilisation in 2017.
Speaking to ANI, husband of the victim, Vikas Dwivedi said, "In 2017, she underwent surgical sterilisation following which she began experiencing pain. We took her to the hospital and the doctors on operating her found two syringes inside her body. Then they asked her to get an X-Ray done and we found there were three more syringes inside her".
TOI reports that according to the husband's complaint, the patient underwent delivery at the hospital in 2013, and began experiencing pain thereafter. Two more surgeries were conducted in June 2015 and February 2017 but the patient did not get any relief, nor a diagnosis was made. He alleged that when he contacted the same gynaecologist, she asked to consult the doctors in surgery ward. Two doctors of surgery wards operated his wife and took out two needles, he said. However, a later X-ray showed that three more needles were still present in her body
................................ Advertisement ................................
"We received a complaint from a man that a lady doctor in the hospital had left needles in the stomach of his wife while she was being operated there. This was detected only recently. We have begun with the investigation," Stationhouse Officer (SHO) of Lanka, Sanjeev Mishra, told ANI.
................................ Advertisement ................................
An FIR has been lodged against a doctor of gynaecology department and two of surgery department under section 279, 337 and 338 of IPC for causing injury and endangering life of the patient, reports TOI.
Author Details
Medical Dialogues Bureau consists of a team of passionate medical/scientific writers, led by doctors and healthcare researchers.  Our team efforts to bring you updated and timely news about the important happenings of the medical and healthcare sector. Our editorial team can be reached at editorial@medicaldialogues.in. Check out more about our bureau/team here
................................ Advertisement ................................
4 comment(s) on Varanasi: BHU Doctors leaves syringes inside woman's body, booked