Vice President inaugurates Madhukar Rainbow Children's Hospital in New Delhi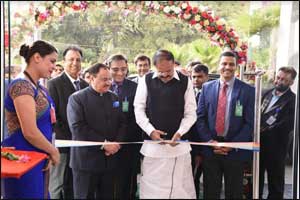 February: Rainbow Children's Hospital - India's leading Pediatric healthcare chain makes its entry into the Capital as Madhukar Rainbow Children's Hospital which is a 150 bedded Multispecialty children's hospital.
Located in the heart of the city at Malviya Nagar, the hospital was formally inaugurated by the Hon'ble Vice President, Shri M Venkaiah Naidu and graced by the Union Health Minister Shri. JP Nadda, Shri Ramesh Bidhuri, Member of Parliament and Shri Somnath Bharti, Member of Legislative Assembly.
Backed with almost 18 years of clinical experience and built with the high focus on child-friendliness, the highlight of the newly launched hospital will be their benchmark Neo-Natal Intensive Care Unit and Pediatric Intensive Care Units. Madhukar Rainbow Children's Hospital will be the first standalone pediatric hospital in the private sector in the NCR, designed, equipped and staffed exclusively to treat children and adolescents under one roof.
At the launch, Hon'ble Vice President, Shri M Venkaiah Naidu, expressed, "Rainbow has made it possible to bring such a state of the art children healthcare facility in the city. My best wishes to Rainbow Group of hospitals and my compliments go out to the entire team for bearing the beacon of exemplary perinatal and maternal healthcare in the country. If we join the public sector and private sector, healthcare facilities will progress much faster in the country. Affordability should always be taken into consideration to ensure the same."
Madhukar Rainbow Children's Hospital is an advanced pediatric multispecialty hospital wherein a lot of emphases has been given to intensive care services, which includes  the 30 bedded children's tertiary Newborn intensive care unit, (NICU) and 15 bed multidisciplinary Pediatric intensive care (PICU) unit backed with 24/7 consultant led pediatric emergency & transport services.
Speaking at the launch, Union Health Minister Jagat Prakash Nadda also stated, "It is indeed a unique idea which is uncommon in India, where under one roof all specialists will cater to the pediatric health needs of children. Multispeciality under one roof is certainly going to benefit the children of the state. This is going to be a breakthrough as far as diseases related to children are concerned. The government will not be able to execute the welfare alone, the private sector will have to come together as well. I wish my very best to Madhukar RainbowGroup of hospitals and this initiative that they have taken."
The Hospital has specialized mobile vans curated and designed for newborns and aims to cover short and long distances to transport babies and children. The hospital also has various children's multispecialty services like pediatric Hemato-oncology & bone marrow transplantation, pediatric nephrology, pediatric gastroenterology and several other services, thus making it a truly comprehensive multidisciplinary children's hospital.
Commenting on its entry to NCR Delhi, Dr.Ramesh Kancharla, Chairman and Managing Director, Rainbow Group of Hospitals said, "We are extremely excited about our maiden foray into the NCR with the first children multispecialty hospital in the private sector in NCR, Delhi along with BirthRight by Rainbow, a specialized perinatal services unit. Our greatest measure of success has always been the number of smiling faces, love and appreciation from the children and their parents and the tremendous support from the medical community in all the other cities. As, we start our services here in the NCR, we look forward to measuring our success in the same manner."
With childbirth being one of the most crucial moments in the perinatal sector, Rainbow has also made a very strong platform in Maternal & Child Health under the brand BirthRight. BirthRight essentially focuses on expectant mothers & offers Fetal Medicine, Antenatal services, Childbirth Preparation, Painless labour to focus on natural deliveries. BirthRight is backed by newborn intensive Care services, neonatal surgical services & whole gambit of pediatric multi-speciality services who would intervene when the need arises.