Viewpoint : Say No to Bridge courses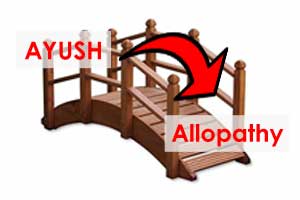 The concept of bridge courses as per the section 49 (4)of NMC Bill; "for the practitioners of Homeopathy and of Indian system of Medicine to enable them to prescribe such modern medicine at such level as may be prescribed," is not based on scientific thinking.
The arguments against the bridge courses are as under:
The integration or mixing of different systems of treatment or pathies is unscientific.
Each system has its unique theories of causation, method of diagnosis and principles of treatment of a specific ailment.
How shall we be able to integrate the Tridosa theory (Vat, Pitta, and Kaph) of Ayurveda with the Antimicrobial concept? Or the Karmic theory of causation of diseases with Anticonvulsive drug therapy?
Regarding the Homeopathy, its principle that substances have a memory or dilution of a material or drug; leads to increase in potency; is contradictory to scientific studies of today.
"similar treat similar ", is diagonally opposite to rationale of antidotes.The Homeopathy students are taught more than two dozen disadvantages and shortcomings of Allopathy.
Those trained in this system shall have to first unlearn, a lot about their system; before they can be initiated into a bridge course e.g." The couples who use contraceptives are bound to suffer from the chronic ailments."
Prescribing drugs of two pathys to one patient simultaneously; may lead to unknown undesirable complications.
Bridge courses of short duration, would produce 'half baked' doctors.
And thus it would pave the way for legalising quackery.
On one hand, M.D.in General Medicine is punished for claiming to be a cardiologist or diabetologist. On the other hand, the government is proposing to introduce, twice a week for six months or still shorter duration courses and trying to present them as a replacement; instead of regular M.B.B.S. doctors.
What a paradox!
The compartmentalization in medical science has gone to the extent that we now debate as to whether it is legal for a General Surgeon to perform Ceaserian Section or not? Should head injury patients be taken care of by General Surgeons or only by Neuro surgeons? Then how can proposal for bridge courses be justified? It is a retrograde move.
The level or extent of prescription by the so-called integrated pathy doctors can never be defined in practice; as per the statement in NMC Bill ( vide supra).
The difference in the theoretical concepts and their unsupervised, unregulated practical application is well known to those; who practice a medical profession in the field. With a 'magic wand' of modern medicine (authorised by a bridge course) including the antibiotics, steroids and painkillers; who would like to restrict to the practice of traditional pathy.
What will be the status of the antimicrobial resistance and magnitude of the steroid related complications due to their blunderbuss use, is not difficult to anticipate for those who encounter such complications in a day to day practice; even now, with all the so-called legal restrictions in place.
"It is astonishing that with how little reading a doctor can practice Medicine, but it is not astonishing how badly he may do it " said William Osler, long ago.
We should not forget the ground realities of our socio-economic and professional work milieu in the name of integration.
The perceived need for bridge courses also implies that the government has realised that these pathies can't be used as a standalone system, be it, Ayurveda or Homeopathy.
A good number of those trained in these pathies don't have confidence in the abilities of these. The Hon.Prime Minister of India in his speech on October 17, 2017 said, "People educated in Ayurveda must have full faith in Ayurveda. " (Reference 1).
So far Homeopathy is concerned there is a demand to ban it in U.K. in N.H.S and in other countries also. (Reference no.2).
And on the contrary government of India is planning to integrate them with an internationally recognised system. And this shall amount of lowering the status of the Modern system of medicine. Moreover, these doctors will be allowed to practice Allopathic system; without clearing any Licentiate Examination.
Why have two different standards for practitioners of the same system? Why let loose an army of ill-trained doctors on innocent rural masses, in the guise of a shortage of doctors? How can any rule, restrict their presence in the rural areas only? They would soon make their presence felt in the slums and middle-class urban localities as well.
The vote bank politics may overpower all logical consideration to raise the standards of public health care.
Bridge courses are a desperate move to bridge the gap between availability and demand of M.B.B.S.doctors.
The long-term solution lies in strengthening the rural infrastructure at PHCs and CHCs. And providing incentives to young M.B.B.S. doctors to work, under difficult circumstances.
The junior resident doctors too can be posted for a shorter duration as a junior specialist, say for three months; provided there is enough equipment and paramedics to support them; apart from clean drinking water and regular supply of electricity; the basic human needs.
Bridge courses would be a death blow to the Alternative system of medicine and degradation of Allopathic modern system. Thus, effectively 'killing' the proverbial, 'Two birds with one stone'; the NMC Bill section 49 (4) being the culprit. Mixopathy shall do NO good to any pathy.
It is high time that all intellectuals ought to think and debate on the implications of such a vital policy. And urge the government of India to delete the concept of bridge courses from National Medical Commission Bill.
The viewpoint is given by Dr A P Setia, M.S. General Surgeon, Setia Hospital, Hisar and Patron IMA Haryana