Vij directs registration of FIR against clerk for misappropriating govt funds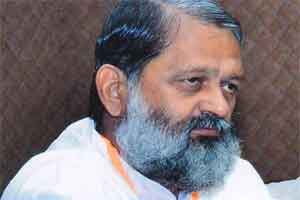 Kaithal: Haryana Health and Sports Minister Anil Vij directed the registration of FIR against Sanjay, a clerk of the veterinary department for allegedly embezzling government funds and producing a forged bill. While presiding over district grievances committee meeting here, the Minister also directed police to immediately register FIR against culprits who allegedly attacked and injured Naresh of Matour village when his wife Neelam complained.
He also directed to make the concerned doctor make a party who refused to make MLR in this case. When Ramesh of Bhaini mahra road here complained about frequent raids at his premises by power board teams and the imposition of fine, Mr Vij directed SDM Kamalpreet Kaur to conduct the inquiry and go through power board electricity manual to see if there was any irregularity in raids.
While disposing of complaint of Jagjit Singh of Cheeka about running illegal vends and sub vends of liquor in Guhla-Cheeka area, the Minister directed to constitute a team comprising Kaithal Tehsildar, DSP and AETO and to conduct raids by 12 night today and submit the report to be followed by strict legal action in this case.
On a complaint by Hazoor Singh of Pobala village, the Minister directed to remove encroachments from villagers on roads and ring road by Duty Magistrate with the help of police if the same were not removed by villagers within 10 days of service of the notice.