Violence against Doctors at Govt Hospitals: Supreme Court to hear PIL today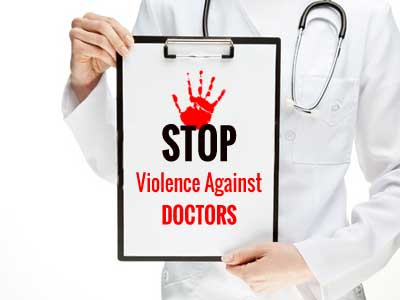 New Delhi: Amid rampant violence against doctors, the Supreme Court is today going to hear a plea seeking safety and security of doctors in government hospitals across the country.
A vacation bench of honourable Justices Deepak Gupta and Surya Kant agreed to list the matter after the counsel appearing for the petitioner sought an urgent hearing in the wake of the assault incident in NRS Medical College and Hospital which had triggered nationwide strike of doctors paralysing the health services all over.
Read Also: Medical Nationwide strike to begin Monday, Doctors say can meet Mamata on open grounds before media
The plea was filed in view of protests by doctors in West Bengal against the assault on their colleagues by the family of a patient, who had died at the hospital. The patient's relatives had accused the doctors of medical negligence. Thereafter a mob of around 150 persons arrived at the medical college premises and assaulted the doctors brutally and hurled stones on them.
During the horrific incident, a doctor's skull had dented and another medico suffered injuries in the eye.
Read Also: Lack of Respect for Doctors: Dented Skull of Medico shows whats WRONG with Indian healthcare
In the petition, it submitted that "strictest action" be taken against those who assaulted the doctors at the hospital.
The petition has also sought directions to Union ministries of home affairs and health and West Bengal to depute government-appointed security personnel at all state-run hospitals across the country to ensure safety and security of doctors.
Due to the protests, the healthcare services in the country have been badly disrupted and many people are dying because of the absence of doctors, the plea said.
Read Also: NRS Medical College Doctors go on Strike after Deceased Patient's Family attacks Colleague
Highlighting incidents of attack on government doctors by attendants and relatives of patients, the petition cited a study by the Indian Medical Association (IMA) which stated that more than 75 per cent of doctors across the country have faced some form of violence.