Viral Video: Class 8th pass Operating on Patient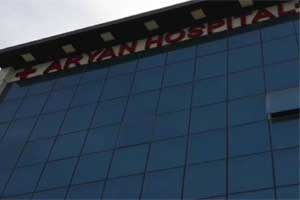 Shamli: In a shocking video that went viral on social media, a Class 8th student can be seen operating a patient at a private hospital in Uttar Pradesh's Shamli.
Nardev Singh is apparently class eighth pass and owner of the Aryan hospital, where he could be seen allegedly operating the patient in the video.
In the video, a female compounder first gives anaesthesia to a patient before the student goes forward to administer the operation.
The Acting Chief Medical Officer (ACMO) Ashok Kumar Handa revealed the media that the hospital was sealed before as well for irregularities.



In a viral video it can be seen there are people present in operation theater, who are not authorised to be there & a nurse can also be seen giving anesthesia to the patient: Ashok Kumar Handa, ACMO Shamli on class 8th pass owner of Aryan hospital seen operating on a patient pic.twitter.com/vFqpBu9Vj9


— ANI UP (@ANINewsUP) July 4, 2018
"This is not the first time this hospital has been a figure of controversy. The hospital was sealed once before," Handa said.
The hospital was sealed thrice for irregularities, but due to "political connections" of the owner, the hospital reopened.
The matter has reached CMO Shamli, who said, "Whatever is shown in the video is unlawful and if found true, then action will be taken against the culprits."
It should be noted that more than 20 patients have died in the hospital in the last one year.
Families of five patients have also filed an FIR against the doctor and the hospital under section 304 (culpable homicide not amounting to murder) of the IPC.
Read Also: 19-year old Held for Impersonating as Junior Doctor At AIIMS for past 5 months