Walk in Interview: SAIL Rourkela Releases 12 Vacancies for GDMO, Specialist posts, Details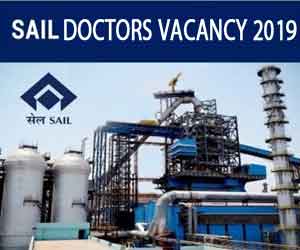 New Delhi:  The Steel Authority of India Ltd (SAIL), Rourkela has released 12 vacancies for General Duty Medical Officer (GDMO) and Specialist posts on Contractual Basis. The selection will be done through walk in interview.
The Rourkela Steel Plant has invited Doctors to appear for the walk-in interview for engagement as GDMO/Specialists for Ispat General Hospital, Rourkela.
Ispat General Hospital, Rourkela a premier hospital of the eastern region with 600 beds is equipped with the state of the art equipment and wide-ranging facilities like CT scan, MRI, Neuro-Surgery, Neonatology, Nuclear Medicine, ICU, Burn Centre etc. The hospital with an excellent record of care, concern
and
commitment provides ample opportunities to the medical professionals for enhancing their knowledge, expertise and experience. The hospital has also been imparting postgraduate training (DNB) to medical professionals.
SCHEDULE FOR WALK-IN-INTERVIEW

DATE: 13/03/2019

REPORITNG TIME: 9.30 AM
VENUE: Conference Hall (OPD Block), Ispat General Hospital, Rourkela Steel Plant, Rourkela – 769005 (Odisha).
The Vacancies are in the Department of General Duty Medical Officer (GDMO), General Medicine, Obstetrics & Gynaecology, Radiology, Dermatology, ENT.
For more details about GDMO and Specialist Recruitment click on the given link:
https://medicaljob.in/jobs.php?post_type=&job_tags=sail-odisha-march2019&location=&job_sector=all
Educational Qualification:
GDMO: MBBS / BDS with minimum 05 years post qualification experience after internship.
Specialist: MBBS with MD/MS/DNB in Medicine / O&G / Radiology / Dermatology / ENT with minimum 02 years post qualification experience after MD / MS / DNB.
MBBS with PG Diploma in O&G / Radiology / Dermatology / ENT with minimum 03 years post qualification experience after PG Diploma.
* Qualification must be from a University/ Institute recognized by Medical Council of India.
AGE LIMIT: 69 years as on 27/02/2019.
Remuneration:
GDMO: Rs. 60,000/- per month.
Specialist: MBBS with MD/MS/DNB- Rs. 90,000/- per month.
MBBS with PG Diploma- Rs. 75,000/- per month.
Tenure of Engagement:
The tenure of contractual engagement of Doctors would be for a period upto 03 (three) years which can be further extended for a period of 01 (one) year. The tenure of engagement shall be subject to the upper age limit of 70 years.
Selection Procedure:
(i) Selection of the candidates for contractual engagement will be done through a Walk-in-Interview.
(ii) Interested and eligible candidate having the requisite qualification and experience can walk-in for selection interview, on the scheduled date and time.
(iii) Ex-employee of SAIL and other PSUs / Government, can also apply, provided they have not been separated by opting for voluntary retirement.
General Condition:
1. Candidates must be an Indian national possessing requisite qualification from a University/ Institute recognized by Medical Council of India.
2. Eligible and interested candidates may appear in the walk-in-interview on the date, time and venue as mentioned above, with following certificates/documents in original along with one set of self-attested photocopies of the same.
i) Filled-in application Format (Annexure-A) with one recent passport size colour photograph
ii) Poof of Date of Birth – SSLC / Matriculation Certificate
iii) All educational Certificates & Mark sheets from Class-X onwards.
iv) Caste/Category certificate, wherever applicable.
v) Valid Registration Certificate issued by Medical Council of India or State Medical Council.
vi) Experience Certificate showing relevant post qualification experience. In case of retired employees, Service Certificate issued by the parent organization should be given.
vii) Photo Identity Proof (EPIC / PAN card / Aadhaar Card / Passport / Driving License)
viii) NOC from present employer, if employed under PSUs/Autonomous Bodies/Govt. Department.
ix) A Self-Certificate that he/she has not separated under Voluntary Retirement / Separation (applicable for Ex-employees of SAIL and other PSUs/Government).
3. All certificates and documents in support of eligibility will be verified only during the walk-in-interview and any candidate who fails to produce the same will not be allowed to appear in the interview.
4. Requisite numbers of posts are reserved for SC/ST/OBC/PWD/ESM categories as per Presidential Directives / Government guidelines.
5. The engagement is purely on "contractual basis" and is not be construed as giving rise to any right to regular appointment in any manner. RSP reserves the sole authority to consider the cases as per its rules, and decision of RSP in this regard shall be firm and binding.
6. SAIL reserves the right to reject any application, or cancel the candidature, or the whole process of interview, or admit less than the number of doctors indicated, without assigning any reason thereof and no enquiry or correspondence will be entertained in this connection. The decision of the RSP for this purpose shall be final and binding.
7. Candidature of an applicant is liable to be rejected at any stage of the selection process, or after selection, in case any information provided by the candidate is found to be false, or is found not to be in conformity with requisite eligibility criteria mentioned in the advertisement.
8. Ex-employees of SAIL and other PSUs/Government are also eligible to apply, except those who have separated by opting Voluntary Retirement.
9. The performance of the Doctor so engaged will be reviewed on periodic basis and the tenure can be curtailed or extended, subject to satisfactory performance.
10. Engagement can be terminated by giving one months' notice by either of the parties. However, in case of poor performance, the contract can be terminated immediately. Absence from duty without permission shall be liable for termination of engagement.
11. No TA/DA will be paid for attending walk-in-interview / selection process.
12. Joining of the candidate subject to Medical Fitness.
13. Court of jurisdiction for any dispute will be at Rourkela.
For more details click on the original website given below.