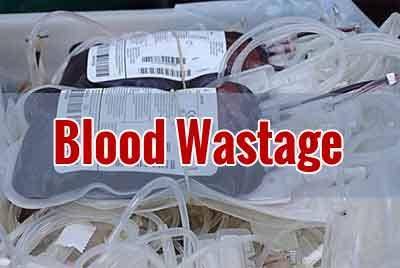 New Delhi : Over 2.8 million units of blood and its components were discarded by banks across India in the last five years, highlighting some serious loopholes in the country's blood banking system. The high spoilage of blood stored in blood banks was revealed by data provided by the National Aids Control Organisation (NACO) in response to an RTI query by Chetan Kothari of Maharashtra.
India on an average faces a shortfall of 3 million units of blood annually. Lack of blood, plasma or platelets often leads to maternal mortality as well as deaths in cases of accidents involving severe blood loss.
On one hand there is an acute shortage of blood in various parts of country and on the other hand it is ironic that there is criminal wastage of life saving blood at other places. States which accounted for maximum wastage of Blood & Blood components included   Maharashtra, West Bengal Andhra Pradesh Uttar Pradesh, Karnataka and Tamil Nadu .
................................ Advertisement ................................
According to TOI, Some of the Shocking figures reported by RTI reveal:-
In 2016-17, over 657,000 units of blood and its products were discarded.
In 2016-17, over 300,000 units of fresh frozen plasma were discarded, which is surprising given that the product is imported by several pharma companies to produce albumin.
Maharashtra, which is the only state to have crossed the one million mark in blood collection, also topped the dubious list with maximum wastage of whole blood followed by West Bengal and Andhra Pradesh
Maharashtra, UP and Karnataka bagged the top three positions in discarding the highest units of red blood cells. UP and Karnataka wasted the maximum units of fresh frozen plasma.
Dr Satish Pawar, head of Directorate of Health Services in Maharashtra said that the wastage can be attributed to a noble health plan to curtail maternal deaths. "We have created more than 200 storage centres in interior areas for emergencies. We have takers for emergency blood only once a week or once in two weeks. But we would rather be prepared to save a life than worry about unused units of blood," he said. He added that the state is working towards creating more component separation facilities.
................................ Advertisement ................................
Dr. Bharat Singh Director Delhi State Blood Transfusion Council said that in Blood Donation Camps a collection of up to 500 units was acceptable and manageable. But there are Mega camps organized by certain Religious and political organizations to create records of sorts where 1,000 to 3,000 units are collected… Where was the place to store so much blood?" He said .As blood has limited shelf life therefore collection of large number of Blood units usually leads to wastage. Instead of this people should be encouraged to walk into regular banks and donate once every three months?" he said.
Dr K.K. Kohli, Member State Blood Transfusion Council, Delhi said that now a days a single unit of whole blood is converted into components such as red blood cells, plasma and platelets but usually only one component is used at a time. "This alone is the cause of huge wastage as doctors nowadays insist on transfusing components. A physician treating a dengue patient, for instance, would prefer to give a platelet transfusion instead of unnecessarily pumping the patient with bottles of whole blood."
Studied at Indraprastha College for Women (Delhi University), completed in year 2014. Currently working with Medical Dialogues, a online Medical news paper dedicated for healthcare Professionals.
................................ Advertisement ................................
0 comment(s) on Wasting the Essence of Life: 2.8 million blood, components discarded in Last five years