Way to M.D to go through rural posting...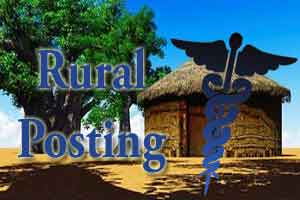 Want an admission to an M.D course? Insist on your rural postings......
The Central government seems to be in a mode to announce a bonanza plan for doctors in order to attract them to go to rural areas and provide health services. The government is mulling over the plan to incentivise rural postings by offering more money or by linking them to benefits in the postgraduate courses.
This comes in sharp contrast to the 2013-14 stint of the government, which saw the then government proposing a mandatory rural posting for all M.B.B.S students. The move had been met with strong opposition from the medical fraternity, forcing the then Union health minister Ghulam Nabi Azad to put the implementation on hold. Even at that time, representatives of the medical fraternity had demanded to create better incentives for rural postings rather than forcing the same on the students.
Now the Government seems to be taking this demand into account and revising the proposal of mandatory rural posting to one made out of choice.
"The ministry has deliberated on the plan and it has in-principle approval from the health minister. A formal proposal with details of incentives has to be drawn up before we take it to the next level in the government for approval," an official told
TOI
.
Availability of Doctors in outskirts has been an Achilles heel of the government in their goal to attain universal healthcare. Even the Parliamentary Commitee on health had noted
The major source of professional healthcare for rural and also many urban poor households is through the public sector which is insufficient in infrastructure, human resources, equipment and drugs (especially at the primary level).  The first point at which a doctor is available in rural public health system is at the Primary Health Centre (PHC) and there are 25308 PHCs3 as on 31st March, 2015 for a rural population of 83.3 crore  plus.  This is just a drop in the ocean.
Given the limited number of postgraduate medical seats in the country, linking rural posting to easier entry to PG seats might just lead to an overwhelming response from doctors going to rural areas.However at the same time, MCI would have to focus on making the M.B.B.S curriculum that produces doctors suited to working in Indian context especially in the rural health services while also focusing on creating more number of PG seats that would be required to cater to these doctors in the long run.