WB: Chemist mob beat up govt doctors for prescribing generic drugs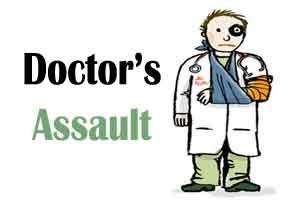 West Bengal: An alleged chemist mob attack on junior doctors in the street of Kalyani has been reported in the media today. The doctors were on a break from working at a government hospital in Kalyani when they were allegedly attached by a mob of pharmacy owners.
The fault of the doctors has been highlighted to be prescription of generic drugs, as they seem to have made a dent on pharmacy owners revenues by following state government's orders to prescribe generic drugs to the patients. The incident details further reveal that the mob initially got into an argument with the doctors and later, resorted to physically assaulting the gathered group of doctors before the midnight.
This group of junior doctors was on duty at the College of Medicine and Jawaharlal Nehru Memorial Hospital (CMJNMH), Kalyani. While they were enjoying an evening cup of tea at a Kiosk, next to the hospital gate; a mob gathered around them. The men in mob allegedly started abusing them over the issue. Later, they resorted to assaulting them.
The matter got very serious after one of the attackers pointed a gun towards the head of a doctor. Immediately, more doctors rushed to the spot to handle the situation. The hospital authorities have filed a police complaint. However, no arrests have been made so far.
"The police as well as the hospital administration have assured to provide security to the junior doctors," said CMJNMH principal Santanu Banerjee to TOI.
While providing adequate security to the doctors remains a grave issue to be tackled by state governments across India, in view of rising incidents; it is also the generic drugs vs. branded drugs debate which remains a puzzle in India.
Reportedly, these junior doctors were only implementing the state government order issued in 2013. It was made mandatory for the govt doctors to prescribe generic drugs in place of branded ones. This was considered in view of providing affordable medicines to the patients. Adversely, it seems to be running in to a loss of business for the pharmacies.
"Some of those operating medicine shops near the hospital have been complaining of slump in sales. They had threatened us earlier but we never imagined they would come armed and assault us," said one of the doctors to the media who did not want to be named. In protest, the junior doctors decided to go on strike on Tuesday morning, but the hospital administration managed to prevent it after holding a series of meetings with them and the district police.
Some alarming facts concerning the generic vs. branded drug market in India are as follows:


India is the largest provider of generic drugs globally with the Indian generics accounting for 20 per cent of global exports in terms of volume


Still the domestic pharma majors continue to face hurdles for consumption in the Indian market itself


An ASSOCHAM study observed that  the influence of physicians in India in terms of prescribing branded medicines are among the factors that have limited the consumption of unbranded drugs in the domestic market




 Having said that, Only recently doctors in Chandigarh had emphasized to monitor the quality along with making generic drugs available for government doctors to prescribe them to the patients. "Once a doctor prescribes a generic medicine, there is no one to check the quality in the pharmaceutical shops. There should be some mechanism so that the quality of the medicines is checked," said Dr TD Yadav from the department of general surgery, PGI to the Express


Another issue is the supply of generic drugs in the market. Dr Yadav in addition implied that besides quality there is a need to keep a check on the availability of the generic drugs as well. They should be made available