White Paper on Non-Communicable diseases: Minister informs Parliament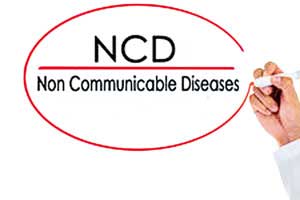 New Delhi: Recently, through a written reply to a question in Rajya Sabha, Minister of State (Independent Charge)  SmtAnupriya Patel informed about the White Paper on Non-Communicable diseases.

The Government has formulated and brought out National Health Policy (NHP), 2017, which aims at attainment of the highest possible level of good health and well-being, through a preventive and promotive health care orientation in all developmental policies, and universal access to good quality health care services without anyone having to face financial hardship as a consequence.

NHP has recognized the growing burden on account of Non-Communicable Diseases (NCDs) and advocated the need to halt and reverse the growing incidence of chronic diseases. This policy denotes important change from very selective to comprehensive primary health care package.

While Health is a State subject, the Central Government supplements the efforts of the State Governments for improving healthcare.

Government is implementing National Programme for Prevention and Control of Cancer, Diabetes, Cardiovascular Diseases andStroke (NPCDCS) under the National Health Mission.

For early diagnosis, Population-based Screening for common NCDs such as Diabetes, Hypertension and common Cancer viz. Oral, Breast and Cervical Cancer has been initiated by Government by utilizing the services of the Frontline-workers and Health-workers under existing Primary Healthcare System. This process will also generate awareness of risk factors of common NCDs.

In collaboration with the Ministry of AYUSH through its three research organizations, namely, Central Council for Research in Ayurvedic Sciences (CCRAS), Central Council for Research in Homoeopathy(CCRH) and Central Council for Research in Unani Medicine(CCRUM), a programme is being implemented in Gaya (Bihar), Bhilwara (Rajasthan) &Surendarnagar (Gujarat) for Ayurveda, LakhimpurKheri (Uttar Pradesh) for Unani and Darjeeling (West Bengal), Krishna (Andhra Pradesh), Sambalpur (Odisha) & Nasik (Maharashtra) for Homoeopathy to use the knowledge available in AYUSH system of medicines for prevention and control of Non-communicable Diseases.  Yoga is a part as adjuvant therapy.

Draft Model Concessionaire Agreements (MCA) has been prepared by NITI Aayog for provision of prevention and treatment services for non-communicable diseases (Cardiac Sciences, Oncology, and Pulmonary Sciences) at the district level, especially in tier 2 & 3 cities and has shared with States.  As informed by NITI Aayog, so far response has been received from 3 States namely Tamil Nadu, Haryana and Odisha.