WHO appoints ICMR Chief Dr Soumya Swaminathan as Deputy Director General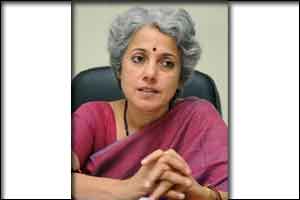 New Delhi: The director general of the Indian Council of Medical Research (ICMR), Soumya Swaminathan, has been appointed as the deputy director general of programmes of the World Health Organisation (WHO).
Swaminathan is the daughter of MS Swaminathan, the acclaimed geneticist and father of green revolution, and she would be holding the second-highest position in the global body.
She would be working under Director General Tedros Adhanom Ghebreyesus who took over this July.
The 58-year-old Swaminathan is a paediatrician and a clinical scientist, known for her research on tuberculosis.
She was earlier the director of the National Institute for Research in Tuberculosis, Chennai.
Swaminathan will be the deputy director general for programmes (DDP) and Jane Ellison will be the deputy director general for corporate operations (DDC), said the WHO director general, while announcing his senior leadership team.
Swaminathan has served as the director general of the ICMR, an apex body in India for biomedical research, for over two years now.