Will carry forward PM's Vision on Generic Medicines: Nadda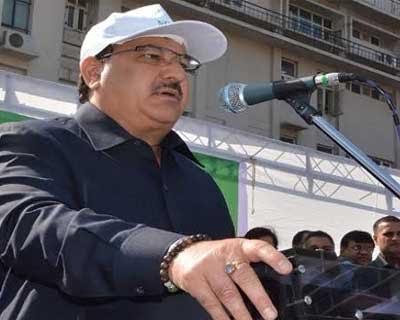 New Delhi: Days after the Centre barred a Delhi-based health NGO from receiving foreign funding, Health Minister J P Nadda said his ministry was "seized" of the matter and taking steps accordingly.
The government had recently barred Public Health Foundation of India (PHFI) from receiving foreign funding, including from the Bill and Melinda Gates Foundation, for alleged violation of the law.
"The ministry is seized of the matter and is taking steps accordingly. At this point of time, I would not be able to tell much about it. Ultimately, whatever will be in public interest, that will be done," he said during an interaction with reporters at Indian Women's Press Corps (IWPC).
The home ministry has cancelled the FCRA registration of PHFI, thereby barring the NGO from receiving foreign contribution.
Nadda was asked about the fate of programmes being run by the ministry along with PHFI, which is funded by foreign donors.
Nadda said that all the national programmes run by the government are "well intentioned".
Asked if his ministry was willing to amend the Medical Council of India (MCI) Act to make it a must for doctors to prescribe generic medicines, after Prime Minister Narendra Modi's push for it, he said his ministry was "on the job" and will come out with something very soon.
Elaborating on the issue, Nadda said the ministry will go ahead with the prime minister's vision.
On essential medicines, he said that his ministry was not working in silos and taking along other ministries and pharmaceuticals.Whatever changes needed to be made for providing affordable and quality medicines, it would be taken, he said.
Asked that there were uncertainty among certain sections regarding the recently launched Measles Rubela vaccine, he said that his ministry was trying to allay all such apprehensions.
"All our programmes are brought after going through a long process of testing and committee reviews. We are trying to break all such apprehensions," he said, while giving the example of the ministry's cost effective programme of giving deworming tablets.
Elaborating about the National Health Policy, Nadda said that from disease centric, the government has made it preventive and promotive and there has been a strategic engagement with the private sector so that the common man is not deprived.
"The stress is on comprehensive healthcare," he said, adding that the government would start universal free health screening for six diseases, including hypertension and cancer, initially in 100 districts of the country.
He also termed the Mental Health Policy and the Human Immunodeficiency Virus (HIV) and Acquired Immune Deficiency Syndrome (AIDS) (Prevention and Control) Bill as very "progressive" measures.
Nadda said that four more vaccines -- IPV, Measles Rubela, Rotavirus and JE Adults -- have been added into the Mission Indradhanush.
The Mission Indradhanush aims at covering all those children who are either unvaccinated, or are partially vaccinated against seven vaccine preventable diseases which include diphtheria, whooping cough, tetanus, polio, tuberculosis, measles and hepatitis B.
Elaborating on Affordable Medicines and Reliable Implants for Treatment (AMRIT) outlets, he said medicines whose cost was worth Rs 179 crore was sold at a cost of Rs 73 crore while under the PM's dialysis scheme, 11 lakh dialysis sessions have already taken place in nine months.