World Ayurveda Congress to be held in Ahmedabad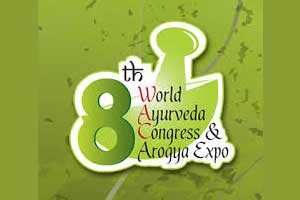 Ahmedabad: The 8th edition of the World Ayurveda Congress (WAC) will be held from December 14 to 17 at the Gujarat University Convention and Exhibition Center here.
The mega event is being organised by the World Ayurveda Foundation with support of Ministry of AYUSH, and the Government of Gujarat. Chief Minister Vijay Rupani and Union Minister of State in the Ministry of Ayurveda, Yoga & Naturopathy, Unani, Siddha and Homoeopathy (Ayush), Shripad Naik would be inaugurating an International Arogya Expo during the WAC.
Prof Dr K S Dhiman, DG Central Council for Research in Ayurvedic Sciences (CCRAS) and Chair of National Organising Committee 8th WAC, Jayant Sahasrabudhhe, organising Secretary,Vigyan Bharti, Prof Dr Pawankumar Godatwar, Secretary General of 8th WAC, Dr Punarvasu Agnihotri,Chair International Arogya Expo, 2018 were present during the curtain raiser here on Thursday.
The theme of the congress is 'Strengthening the Ayurveda Ecosystem' and the congregation will bring together stakeholders in the Ayurveda sector from India and abroad. The major components of the program this year would be Policy makers Conclave, Teaching & Research Methodology workshop, UG Students orientation, NYASYA Conclave, Practitioners Capacity building workshop, Buyer Seller Meet, international delegates assembly, International medicinal plants seminar etc.
The 8th WAC will hold 5 plenary sessions, 96 parallel sessions and a large number of paper presentations, complemented by a series of associated events, Dhiman informed.
This year's World Ayurveda Congress will be the largest ever as compared to the earlier World Ayurveda Congress at Kochi, Pune, Jaipur, Bengaluru, Bhopal and Delhi. Over 4000 delegates, including over 300 international delegates from 32 countries representing the Global Ayurveda fraternity are expected to participate.
Other participants would be Students, Ayurvedic practitioners, traditional healers, academics, research scientists, policy makers, industry, cultivators and collectors of medicinal plants, agricultural and forestry experts, buyers from overseas, regulators from developed nations and members of society in and around Ahmedabad interested in Ayurveda, he said.
On the agenda is also a meeting for over 150 traditional healers who will demonstrate their medical approaches that have remained relevant to health care challenges in the country.
Arogya Expo will showcase the best that Ayurveda sector has to offer in products and services to the society. Leading companies from all over India will display their best in Ayurvedic innovation. Medical and Educational institutions will demonstrate their health care options for a healthy life in today's high pressure lifestyle.