World Bank to give Rs 75 crore for additional infrastructure to Lal Ded hospital Srinagar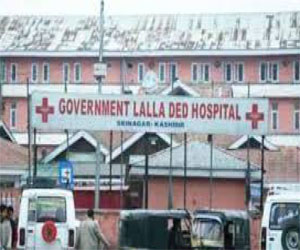 The building will be constructed using the Base Isolation Technique which is earthquake proof and has been recommended by the World Bank as the region falls under the Seismic Zone –V
Srinagar:  An amount of Rs 75 crore will be utilised to construct an additional block of Lal Ded maternity hospital in Srinagar under the World Bank-funded Jhelum Tawi Flood Recovery Project (JTFRP).
An official on Sunday said that Chief Executive Officer, J&K ERA Dr Raghav Langer on Saturday inspected the construction site of an additional block of Lal Ded.
"The project has been taken up at an approximate cost of Rs 75 crore under the World Bank-funded JTFRP for strengthening of critical infrastructure in the state," he said.
Read Also: Centre sanctions Rs 4 cr for HDU, ICU for SMGS, Lal Ded hospitals in J&K
The officers of JKPCC, which is designated implementing agency for the project, informed CEO ERA that the proposed additional hospital block will be constructed adjacent to the existing hospital complex and the new building will be integrated with it.
"The building will be a six floor (including ground floor) with parking space, patients waiting for lounge, canteen in ground floor, newborn section in 1st floor, operation theatres and labour rooms in 2nd floor, 3rd floor as patients waiting lounge and hospital equipment while as 4th and 5th floors will have space forwards.
It was said that the building will be constructed using the Base Isolation Technique which is earthquake proof and has been recommended by the World Bank as the region falls under the Seismic Zone –V," he said.
He said the technique will be used for the first time in any of the public constructions in the state. "The building block has also been categorised as Green Building and is being designed to achieve the performance based on international design standards," he said.
The CEO, ERA also had an interaction with the hospital authorities who expressed satisfaction with the proposed design of the building and also made a request for providing logistic requirements like complete medical equipment and furniture that will be required for making the additional hospital block functional.
The CEO, ERA directed the officers of JKPCC and JTFRP to hold the meeting with the J&K Medical Supplies Corporation so that the component is taken care of under the project. He also directed the JKPCC and design consultancy to complete the preparation of drawings and other technical details by the first week of March 2019 and ensure that the work on the project is started at the earliest.