10 years jail to 5 Doctors and two others for Rs 1.04 crore bank fraud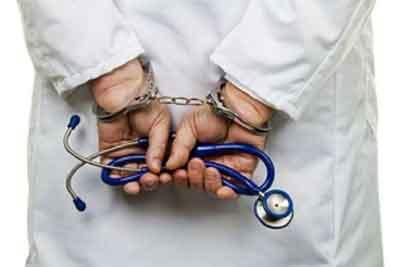 Madurai: The Central Bureau of Investigation (CBI) court has given ten years of rigorous imprisonment to five doctors and two others for allegedly being involved in a fraud to tune Rs 1.04 crore from a bank. The court also imposed fine of Rs 25,000 on the accused.
In a recent press release by CBI, the agency informed that it registered a case of
fraud
that involved five doctors; Dr C R Subramanian, Dr S Jala Jawahar, Dr K Rajavelu, Dr B Bhanumathi, Dr M Sundararajan, Dr Muthusamy, Dr Rajamani and an equipment supplier S. Shanmugavel and a former bank manager, K P Kumar, during the period of 2004-06 after the allegedly entered into conspiracy to cheat Corporation Bank .  However, two doctors  Dr Muthusamy, Dr Rajamani died during the course of trial.
Read Also: Doctor, Hospital Owner booked for Rs 45 lakh fraud from pharmacy
The doctors applied for loans in 2008 and had colluded with the equipment supplier and a former bank manager of the bank to commit the fraud. The loan was obtained under the 'Corp Meditech Scheme' to purchase medical equipment, reports The Hindu.
The accused medical practitioners with a fraudulent intention siphoned off the sanctioned loan amounts by showing purchase of equipment against forged invoices issued by the supplier who without the supply of equipment, encashed the Demand Drafts issued in his favour and deducted a commission, before diverting the loan amount, informed the press release.
To make it more authentic fake documents were given, invoices, delivery and installation reports to the bank were produced by the suppliers. The suppliers, in turn, received commission from the fraudsters, reports TOI.
The scandal came into light in 2009 after an audit that was conducted after the police complaint filed by the top brass of the bank. The case was handed over to the CBI.
Read Also: Indian-American doctor in Florida charged with alleged federal healthcare fraud