150 swine flu cases registered in border districts of Haryana: State Health Minister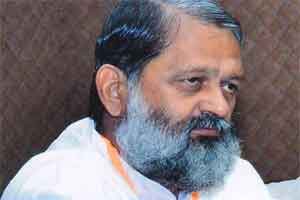 Chandigarh:  Amid reports of swine flu in the state, Haryana Health Minister Anil Vij on Monday said that free vaccine would be given to all employees and doctors in all hospitals to ensure their safety from such diseases.
About 150 cases of swine flu have been registered in districts of the state adjoining borders with neighbouring states namely Rajasthan, Delhi and Punjab, the Minister said.
Read Also: Punjab: Suspected Swine Flu claims 7 lives
He said that there is information that eight patients suffering from swine flu had died during treatment in private hospitals, but no death has been registered in government hospitals across the state as a result of the quality treatment being provided there.
Mr Vij said that the state government is committed towards ensuring good health and safety of people. Therefore, the decision to this effect has been taken and directions have been issued to the Director General Health department for immediate implementation of this decision.
Read Also: Rajasthan: Swine flu claims 19 lives since Jan 1
He directed all government hospitals to make arrangements of the adequate amount of medicines, diagnosis equipment and other facilities so that the disease could be stopped from spreading.
Read Also: 892 people detected with swine flu in Telangana