2 days free treatment scheme to accident victims launched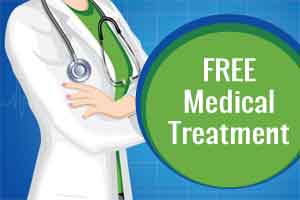 Bengaluru: A scheme to provide free treatment to road accident victims for the first 48 hours in the nearest government or private hospital was launched by Karnataka government.
The scheme, Mukhyamantri Santwana Harish Yojana, has been named after Harish Nanjappa who donated his eyes moments before his death even as he lay severely injured seeking help after a mishap in the city last month.
Under the scheme, immediate medical relief would be provided to the victim during the "Golden Hour" with financial aid up to Rs 25,000 during the first 48 hours of treatment.
Chief Minister Siddaramaiah, who launched the scheme, said whenever the accident happens, people should show at least basic sense of humaneness of calling an ambulance, informing police and comforting the affected person.
He said in many accident cases involving two-wheelers, bicycles or pedestrians, it was the poor and middle class who suffer and it was therefore incumbent on the government to come to their help.
Siddaramaiah paid tributes to 23-year old Nanjappa,  whose body was cut in half after a truck hit his motorcycle and ran over him here and who in dying moments told paramedics shifting him to the hospital to harvest his organs and donate them to the needy.
Grief-stricken mother of Nanjappa Geetha said nobody should suffer the fate his son did and thanked the government for naming the scheme after him.
About 200 hospitals have been impaneled for the scheme for which Rs 10 crore had been earmarked in 2015-16.
The Health Department has requested the Chief Minister to provide Rs 75 crore in the 2016-17 Budget, according to Health Minister U T Khader.