2869 cases of quacks in Karnataka, informs Health Minister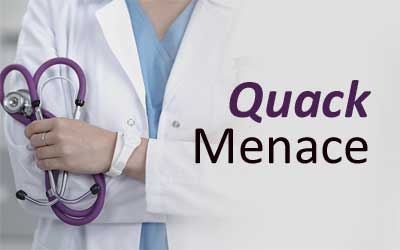 BENGALURU: Elaborating on the quack menace that has been growing in the state, Karnataka Health Minister, Ramesh Kumar informed the Legislative Council that a whooping 2,869 cases of fake doctors had been detected across the state in the recent past.
Of the total cases , 634 were reported in Shivamogga followed by Bidar with 276, he informed. The minister was replying to the question raised by BJP MLC S V Sankhanur.
Adding that the menace is most prominent at the primary healthcare level,
Indian Express
reports that the minister admitted that the government was also in fault for not preventing this at the primary level.
Clearly distinguishing between traditional doctors, he stated that fake doctors are those who are neither traditional healers, nor have graduated from any institute and/or carry fake certificates to fool patients.
He informed the assembly that the government is aware about the menace and has now constituted a committee to look into the matter. "It's better late than never. We have constituted an expert committee to streamline medical practitioners,  including cracking down on fake doctors. The committee is expected to submit its report in a month's time," he said.