300 doctors on Mass leave after RDA President of DDU Hospital assaulted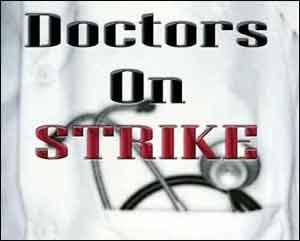 New Delhi: After the alleged assault on two resident doctors of Deen Dayal Upadhaya Hospital, more than 300 doctors of Deen Dayal Upadhyay (DDU) announced an indefinite strike in protest against the assault done on their colleagues
The incident of assault took place on Monday when a seven-month-old baby who was diagnosed with infection and sepsis was admitted to the pediatric ward. Demanding guaranteed healing of the child, the father of baby allegedly assaulted two doctors of the paediatrics department stating that they delayed in the treatment of his baby.
Speaking with Indian Express, Dr Gursimar Singh, President, Resident Doctors' Association (RDA), DDUH and the victim of the assault said, "The father of the infant, who was admitted day before, was complaining that no doctor was treating the patient. The father then verbally threatened a female doctor. Later, I went to see the patient. However, the grandmother intervened saying that the doctors should guarantee that child will fully recover. I said we are doing our best. After that, the family hurled verbal abuses and the father physically assaulted me."
"Later, Dr Rishab Raj Saxena intervened. The father then pushed both the doctors. I have received a scratch on the eye; the other doctor, whose hand was twisted, has sustained a ligament tear. We spoke to the representatives from the medical superintendent's office. He will meet us tomorrow. The strike will continue till the security is increased," the RDA President added.
This is the second strike in the hospital in a month. The previous strike, which was also called on the issue of security, was called off only after the authorities had given assurances of increased security at the hospital. The doctors this time have categorically stated that they will not return to work unless their demands are met on increasing security and arrest of the people who attacked the doctors.
With the flash strike being announced out-patient department (OPD) remained shut and 40 routine surgeries were cancelled. Emergency services are being run by a few senior doctors with help of skeletal staff. Authorities are yet to provide a response on the strike.
Read also: New Delhi: Doctors at Deen Dayal Upadhyay hospital go on strike after assault