32 Year old Indian Origin Dentist murdered in Sydney, body stuffed in suitcase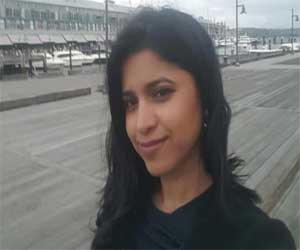 Hyderabad: A spine chilling incident of murder of a 32-year old dentist of Indian origin has been reported from Sydney. A stabbed body of the dentist was discovered- packed up in a suitcase, leading authorities to wonder what may have happened with her
The case concerns one Dr Preethi Reddy who had her roots in Mahbubnagar of Telangana. She was brought up in Sydney. She worked at Tamworth Oasis Dental Clinic. Her father, a professor in Western Sydney University moved to Sydney several years ago. Preethi was brought up in Sydney.
The
Dentist
went to attend a dental convention at St Leonards on Saturday. She contacted her family around 11 am on Sunday where she informed that she will be returning home late after breakfast.
When she did not return home late that evening, the family members filed a missing report in the police.
The police investigated the matter and found that she was last spotted at a McDonalds around 2am on Sunday where she was seen buying two bottles of water.
Later, her dead body, stabbed multiple times, was found stuffed in a suitcase placed in her car that was parked in Kingsford, about 9.30pm on Tuesday.
Read Also: Unfortunate: Indian doctor stabbed to death by patient in US
When the police investigated the matter, it was found that she met Dr Harshwardhan Narde, 34, another dentist who happened to her ex-boyfriend during the conference on Saturday night. She went along with him to a hotel on Market Street in the CBD where he was staying
NSW Police detectives now believe Dr Reddy stayed at a hotel on Market Street on Sunday "with a man known to her".
The police suspected him regarding the missing dentist, but before the same could be confirmed Dr Narde reportedly died in a car crash with a truck on the New England Highway, NSW at 10 pm on Monday night.
"At this stage we know they met up in Sydney. Now we're looking at all the movements between those two to establish exactly what happened. At this stage we won't be guessing in relation to that," Det Supt Gavin Dengate told the
Guardian
.