38 year old Woman Gynaecologist assaulted in Maha hospital, 3 arrested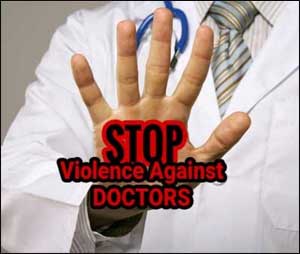 Thane: A 38-year-old woman doctor was allegedly assaulted by four persons at the Government Civil Hospital in Thane yesterday night, police said.

A police official said that the four accused assaulted the woman gynaecologist after she objected to one of them recording the ward premises on a mobile phone.

The four persons were relatives of a pregnant woman who was admitted in the ward, police said.

A Thane Nagar police station official identified the four as Vicky Kadam (32), Sagar Patil (25), Digambar Kasbe (26) and Mangesh Kiratkar (30).

A case under relevant sections of the Indian Penal Code was registered in the early hours of today and three of the four accused were arrested, he said.

Kasbe, one of the four accused, is yet to be caught and efforts were on to nab him, the official added.