41 percent Ceaserean delivery in Private Sector as opposed to 12 percent at government setups: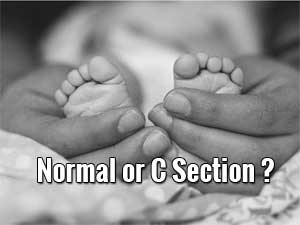 Birth by Caesarean Section (%) in private health facility amounted to 40.9% which is higher than public health facility where it is 11.9%, as was revealed by the National Family Health Survey –IV (2015-16), the MOS Health recently apprised the parliament
The minimum was responding to a question raised in the parliament that whether Government is aware that in private hospitals caesarean delivery has become a practice rather than necessity.
Responding with the statistics, the Minister also informed the parliament that as per WHO statement (April 2015) "at population level, caesarean section rates higher than 10% are not associated with reductions in maternal and new-born mortality rates"
Responding to the question on the steps taken by the government, the Minister stated


In order to curb unnecessary C - section rate a communication vide OM M.12015/182/2015-MCH has been sent to the Principal Secretaries and Mission Directors of all States and UTs urging them to share the WHO statement with all the Obstetricians and Gynaecologists working in public health facilities in their respective States.


Government of India also has written vide OM M.12015/182/2015-MCH to Federation of Obstetrical and Gynaecologists in India (FOGSI) to share the WHO statement among the Obstetricians and Gynaecologists under the umbrella of FOGSI.


All CGHS empanelled hospitals are directed to display the information regarding ratio of deliveries by caesarean section vis-à-vis normal deliveries vide OM Z15025/2017.


Under "LaQshya"- Labour room & maternity OT Quality Improvement Initiative, Caesarean section audit has been implemented in all certified public health facilities to ensure that Caesarean sections are undertaken judiciously in only those cases requiring such surgical interventions.


Medical Dialogues had earlier reported WHO had addressed the issue of higher rates of C-section in its guidelines and recommended a  Mandatory Second Opinion to reduce Unnecessary C-Section
The guidelines also call for the implementation of evidence-based clinical practice guidelines, caesarean section audits and timely feedback to health-care professionals are recommended to reduce caesarean births in hospitals.
Read Also: Mandatory Second Opinion to reduce Unnecessary C-Sections: WHO 2018 Guidelines