5 Year Jail, Rs 1 Lakh Fine for Not Disposing Medical Waste Properly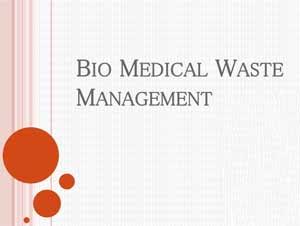 New Delhi: The hospitals, nursing homes and other medical institutions in the capital will have to be careful about disposal of medical waste, as  violation of the new biomedical rules will attract a jail term of five years or a fine of Rs 1 lakh or both from now on.
 The Delhi government is soon going to impose new rules in this regard, known as the Biomedical Waste Management Rules, 2016 which are going to replace the existing rules, that is, The Biomedical Waste (Management & Handling) Rules, 1998,
The new rules clearly state that failure to comply with provisions of the rule will attract penal action as per provisions of Environment (Protection) Act, 1986, which includes imprisonment of five years or a fine of Rs 1 lakh or both.
The said rules cover all persons who generate, collect, receive, store, transport, treat, dispose, or handle biomedical waste in any form.
Moreover, as per the new rules, laboratory waste, microbiological waste, blood samples and blood bags should be pre-treated through disinfection or sterilisation on-site as prescribed by World Health Organization or the National Aids Control Organisation (NACO), according to a government statement.
Also, all healthcare facilities should display their authorisation issued by Delhi Pollution Control Committee so that public can verity it.
Deputy Chief Minister Manish Sisodia, recently inaugurating a workshop on implementation of Biomedical Waste Management Rules, 2016, stressed on the need for creating awareness about the rule and added that healthcare facilities, including hospitals, nursing homes and clinics, should be sensitized on the matter.
Medical Dialogues team had earlier reported that Delhi government directed all Delhi government hospitals, dispensaries and other health care facilities to carry on their notice boards and websites the statutory rules for bio-medical waste management.
Read also: Delhi: Govt hospitals to carry Bio Medical waste management notice on Websites
Scientific disposal of such waste through segregation, collection and treatment in an environmentally sound manner minimises the adverse impact on the people, including patients and health workers and on the environment. The hospitals are required to put in place the mechanisms for effective disposal either directly or through common bio-medical waste treatment and disposal facilities.
To read about the news rules, Read Also: 
Bio-Medical Waste rules get more stringent