Haryana: 55 quacks arrested in raids conducted by CMs Flying Squad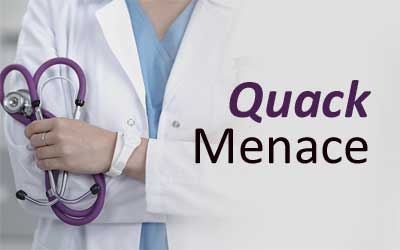 Chandigarh:  The Chief Minister's Flying Squad along with health department officials raided 147 places in Haryana and arrested 55 alleged quacks and their helpers, an official said.
The raids were conducted after authorities received complaints about quacks running clinics at various places in the state.
The raids started from 9am on Thursday. The intelligence officials had already identified most of the suspected clinics and doctors. Across Haryana, at least 147 raids were conducted- Gurugram (31), Faridabad (11), Mewat, Palwal, Sirsa (9), Panchkula (8), Mahendragarh (8), Yamunagar (7), Hisar (7), Bhiwani (5), Fatehabad (5), Sonipat (5), Jind (4), Rewari (4), Panipat (3), Ambala (3), Hansi (2), Dadri (2), Jhajjar (2), Kaithal (1), Kurukshetra (1), Rohtak (1), Karnal (1) and Palwal (5). The doctors here were found to be without any valid degree and had licence for their clinics, reports TOI 
The police has also registered 54 FIRs. Some were found operating from their homes and shops, an official spokesman said
The squad along with doctors also recovered some prohibited medicines and surgical items from these clinics, he said here.
The spokesman said that so far 54 cases have been registered against the quacks who were unable to produce their degrees or documents concerned to run clinics.
Thirty-one raids were conducted and as many FIRs were registered in Gurgaon and three persons were arrested, he said.
The quacks were found to be prescribing the medicines, administering injections and using BP apparatus. Shockingly, at least 10,000 strips medicines were recovered from Gurugram alone, reports Times of India
Eleven raids were conducted in Faridabad and as many persons were arrested, and nine raids each were conducted in Panchkula and Sirsa, the spokesman said.
One FIR was registered and a person was arrested in Panchkula, two FIRs were registered and as many were arrested in Sirsa, the official said.
Raids and arrests were also made at Sonepat, Narnaul Yamunanagar, Hisar, Jhajjar, Bhiwani, Fatehabad, Ambala, Rohtak, Panipat, Kurukshetra, Karnal and Rewari, he said.
Raids were still on until the filing of this report.