8100 MBBS seats lost for non compliance of MCI requirements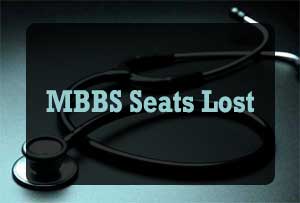 The Medical Council of India (MCI) has recently come up with the advisory denying the permission to admit MBBS students for the academic year 2017-18 & 2018-19 in number of medical colleges due to the lack of infrastructure and faculty facilities.
A deep analysis of the same has shown that with the recent debarments by Medical Council of India (MCI), a total of 8100 MBBS seats have been lost . These include both new medical colleges which have been debarred from taking fresh batch admissions as well as existing medical colleges which have been disallowed a seat increase. The reason for the debarment is failure of these colleges to meet the requirements of the MCI during its inspection including faculty and infrastructure.
Uttar Pradesh has emerged as the biggest loser of MBBS seats with a whooping 1500 seats being lost with the debarment of 13 medical colleges. Majority of these medical colleges are private medical colleges, that failed to meet the infrastructural and manpower requirements of the Medical Council.
The 5 southern states including Karnataka, Andhra Pradesh, Telangana, Tamil Nadu and Kerala have together lost 3300 seats with Kerala losing maximum with 800 seats through  debarment of six medical colleges, followed by Telangana with 
Least seats have been lost in Gujrat and Jharkhand with one medical college in each state being debarred from an increase intake of 50 students each.
Here is the list of lost seats in medical colleges in different states;-


Andhra Pradesh: 600 -


Chhatisgarh: 400


Delhi: 100


Gujarat: 50


Haryana: 300


Jharkhand: 50


Karnataka: 550


Kerala: 800


Madhya Pradesh: 800


Maharashtra: 400


Orissa: 100


Punjab: 150


Rajasthan: 300


Tamil Nadu: 700


Telangana: 650


Uttar Pradesh: 1500


Uttarakhand: 150


West Bengal: 500






S.No.


State


Name of the Medical College


Status


Seats




1


Andhra
Pradesh


RVS Institute of Medical
Sciences, Chittoor, Andhra
Pradesh


Debarred from admission for the
academic year 2017-18 & 2018-19.


150




2


Andhra
Pradesh


Nimra Institute of Medical
Sciences, Andhra Pradesh


Debarred from admission for the
academic year 2017-18 & 2018-19.


 150




3


Andhra
Pradesh


Gayatri Vidya Parishad Institute of Health Care and Medical
Technology, Visakhapatnam, AP


Debarred from admission for the
academic year 2017-18 & 2018- 19.


 150




4


Andhra
Pradesh


Apollo Institute of Medical Sciences & Research,Murakkambattu Village, Chittoor, Andhra Pradesh


Debarred from admission for the
academic year 2017-18 & 2018-
19.


 150




5


Chhattisgarh


Raipur Institute of Medical
Sciences, Raipur, Chhattisgarh


Debarred from admission for the
academic year 2017-18 & 2018-
19.


 150




6


Chhattisgarh


Shri Shankaracharya Institute of
Medical Sciences, Junwani,
Bhilai, Chhattisgarh


Debarred from admission for the
academic year 2017-18 & 2018-19.


 150




7


Chhattisgarh


Govt. Medical College,
Ambikapur, Chhattisgarh


Not permitted for admission for
the academic year 2017 -18.


 100




8


Delhi


Hamdard Institute of Medical
Sciences & Research, New Delhi


Debarred from admission for the
academic year 2017-18 & 2018-
19.


 100




9


Gujarat


Pramukhswami Medical College,
Karamsad


Debarred from admission for the
academic year 2017-18 & 2018-
19 against increased intake from
100 to 150. The college is
recognized for 100 MBBS seats,
hence, it is permitted for
admission for 100 seats.


 50 (barred   from increase intake)




10


Haryana


World College of Medical
Sciences & Research Village -
Gurawar, Jhahhar, Haryana


Debarred from admission for the
academic year 2017-18 & 2018-
19.


 150




11


Haryana


N.C. Medical College &
Hospital, Israna, Panipat,
Haryana


Debarred from admission for the
academic year 2017-18 & 2018-
19.


150




12


Jharkhand


Patliputra Medical Sciences, Dhanbad, Jharkhand


Not permitted for admission for
the academic year 2017-18 against increased intake from 50
-100. The college is recognized
for 50 MBBS  seats, hence, it is
permitted for admission for 50
seats.


 50 (barred from increase intake)




13


Karnataka


Kanachur Institute of Medical
Sciences & Research Centre,
Mangalore, Karnataka


Debarred from admission for the
academic year 2017-18 & 2018-
19.


 150




14


Karnataka


Akash Institute of Medical
Sciences & Research Centre,
Devanhalli


Debarred from admission for the
academic year 2017-18 & 2018-
19.


 150




15


Karnataka


Sambharam Institute of Medical
Sciences & Research, Kolar,
Karnataka


Debarred from admission for the
academic year 2017-18 & 2018-
19.


150




16


Karnataka


Sri Siddhartha Medical College, Tumkur


Not permitted for admission for
the academic year 2017-18
against increased intake from 130
– 150. The college is recognized
for 130 MBBS seats, hence, it is
permitted for admission for 130
seats.


 20 (barred from increase intake)




17


Karnataka


Al Ameen Medical college & Hospital, Bijapur, Karnataka


Not permitted for admission for
the academic year 2017-18 against increased intake from 100-150. The college is
recognized for 100 MBBS seats,
hence, it is permitted for
admission for 100 seats.


 50 (barred from increase intake)






18


Karnataka


Kempegowda Institute of
Medical Sciences, Bangalore


Not permitted for admission for
the academic year 2017-18
against increased intake from
120-150. The college is
recognized for 120 MBBS seats,
hence, it is permitted for
admission for 120 seats.


 30 (barred from increase intake)




19


Kerala


Kerala Medical College,
Palakkad, Kerala


Debarred from admission for the
academic year 2017-18 & 2018-
19.


 150




20


Kerala


S.R Medical College & Research
Centre, Thiruvananthapuram


Debarred from admission for the
academic year 2017-18 & 2018-
19.


 150




21


Kerala


Al-Azhar Medical College and
Super Speciality Hospital,
Thodupuzha, Kerala.


Debarred from admission for the
academic year 2017-18 & 2018-
19.


 150




22


Kerala


Mount Zion Medical College,
Pathanamthitta, Kerala


Not permitted for admission for
the academic year 2017-18.


 100




23


Kerala


DM Wayanad Institute of
Medical Sciences, Wayanad,
Kerala


Debarred from admission for the
academic year 2017-18 & 2018-
19.


 150




24


Kerala


Government Medical College,
Painav, Idukki, Kerala


Not permitted for admission for
the academic year 2017-18.


 50




25


Kerala


Kannur Medical College,
Kannur


Not permitted for admission for
the academic year 2017-18 against increased intake from
100-150. The college is
recognized for 100 MBBS seats,
hence, it is permitted for
admission for 100 seats.


50 (barred from increase intake)




26


Madhya
Pradesh


Sukh Sagar Medical College &
Hospital, Mouza, Chargawan,
Bargi Tehsil & Distt. Jabalpur,
Madhya Pradesh


Debarred from admission for the
academic year 2017-18 & 2018-
19.


 150




27


Madhya
Pradesh


Sakshi Medical College &
Research Centre, Guna, M.P.


Debarred from admission for the
academic year 2017-18 & 2018-
19.


 150




28


Madhya
Pradesh


Advanced Institute of Medical
Sciences & Research Centre,
Bhopal


Debarred from admission for the
academic year 2017-18 & 2018-
19.


 150




29


Madhya
Pradesh


Modern Institute of Medical
Sciences, Indore, Madhya
Pradesh


Debarred from admission for the
academic year 2017-18 & 2018-
19


 150




30


Madhya
Pradesh


RKDF Medical College Hospital
& Research Center, Jatkhedi,
Bhopal, Madhya Pradesh


Debarred from admission for the
academic year 2017-18 & 2018-
19.


150




31


Madhya
Pradesh


Sri Aurobindo Medical College,
Indore


Debarred from admission for the
academic year 2017-18 & 2018-
19 against increased intake from
100-150. The college is
recognized for 100 MBBS seats,
hence, it is permitted for
admission for 100 seats.


 50 (barred from increase intake)




32


Maharashtra


Institute of Medical Science and
Research, Vidyagiri, Satara


Debarred from admission for the
academic year 2017-18 & 2018-
19.


 100




33


Maharashtra


Jawahar Medical Foundation'
Annasaheb Chudaman Patil
Memorial Medical College,
Dhule


Debarred from admission for the
academic year 2017-18 & 2018-
19.


 100




34


Maharashtra


Maharashtra Institute of Medical
Sciences and Research,
Talegaon, Dabhade, Pune


Not permitted for admission for
the academic year 2017-18
against increased intake from
100-150. The college is
recognized for 100 MBBS seats,
hence, it is permitted for
admission for 100 seats.


 50 (barred from increase intake)




35


Maharashtra


Dr. D.Y. Patil Medical College


Debarred from admission for the academic year 2017-18 & 2018-
19 against increased intake from
150-250. The college is
recognized for 150 MBBS seats,
hence, it is permitted for
admission for 150 seats.


 100 (barred from increase intake)




36


Maharashtra


Dr. Ulhas Patil Medical College & Hospital, Nashik


Not permitted for admission for
the academic year 2017-18
against increased intake from
100-150. The college is
recognized for 100 MBBS seats,
hence, it is permitted for
admission for 100 seats.


 50 (barred from increase intake)




37


Orissa


Hi-Tech Medical College &
Hospital, Rourkela


Debarred from admission for the
academic year 2017-18 & 2018-
19.


 100




38


Punjab


Chintpurni Medical College, Gurdaspur


Debarred from admission for the
academic year 2017-18 & 2018-19.


 150




39


Rajasthan


American International Institute
of Medical Sciences, Bedwas,
Udaipur


Debarred from admission for the
academic year 2017-18 & 2018-
19.


 150




40


Rajasthan


Ananta Institute of Medical
Sciences & Research Centre,
Nathdwara, Rajsamand, Udaipur,
Rajasthan


Debarred from admission for the
academic year 2017-18 & 2018-
19.


 150




41


Tamilnadu


Ponnaiyah Ramajayam Institute
of Medical Sciences,
Kancheepuram, Chennai,
Tamilnadu


Debarred from admission for the
academic year 2017-18 & 2018-
19.


150




42


Tamilnadu


Annaii Medical College Hospital
& Research Institute,
Kancheepuram, Tamilnadu


Debarred from admission for the
academic year 2017-18 & 2018-
19.


 150




43


Tamilnadu


Karpagam Faculty of Medical
Sciences & Research,
Coimbatore


Not permitted for admission for
the academic year 2017-18.


 150




44


Tamilnadu


Madha Medical College and
Hospital, Thandalam, Chennai


Debarred from admission for the
academic year 2017-18 & 2018-
19.


 100




45


Tamilnadu


Melmaruvathur Adhiprasakthi
Institute of Medical Sciences &
Research, Melmaruvathur


Debarred from admission for the
academic year 2017-18 & 2018-
19.


 150




46


Telangana


RVM Institute of Medical
Sciences & Research Centre,
Mulugu Mondal, Medak Distt.
Telangana


Debarred from admission for the
academic year 2017-18 & 2018-
19.


 150




47


Telangana


Mahavir Institute of Medical
Sciences, Ranga Reddy,
Vikarabad, Telangana


Debarred from admission for the
academic year 2017-18 & 2018-
19.


150




48


Telangana


Malla Reddy Medical College
for Women, Jeedimetla,
Hyderabad, Andhra Pradesh


Debarred from admission for the
academic year 2017-18 & 2018-
19.


 150




49


Telangana


SVS Medical College,
Mehboobnagar


Not permitted for admission for
the academic year 2017-18
against increased intake from
100-150. The college is
recognized for 100 MBBS seats,
hence, it is permitted for
admission for 100 seats.


 50 (barred from increase intake)




50


Telangana


Mediciti Institute of Medical
Sciences, Ghanpur, Ranga
Reddy, A.P.


Not permitted for admission for
the academic year 2017-18
against increased intake from
100-150 The college is
recognized for 100 MBBS seats,
hence, it is permitted for
admission for 100 seats.


 50 (barred from increase intake)




51


Uttar
Pradesh


Glocal Medical College, Super
Specialty Hospital & Research
Center, Mirzapur, Saharanpur,
U.P.


Debarred from admission for the
academic year 2017-18 & 2018-
19.


 150




52


Uttar
Pradesh


G.C.R.G. Institute of Medical
Sciences, Lucknow, Uttar
Pradesh


Debarred from admission for the
academic year 2017-18 & 2018-
19.


 150




53


Uttar
Pradesh


Krishna Mohan Medical College
& Hospital, Mathura, Uttar
Pradesh


Debarred from admission for the
academic year 2017-18 & 2018-
19.


 150




54


Uttar
Pradesh


Venkateshwara Institute of
Medical Sciences, Gajraula, J.P.
Nagar, Uttar Pradesh


Debarred from admission for the
academic year 2017-18 & 2018-
19.


 150




55


Uttar
Pradesh


Saraswati Medical College,
Unnao, Uttar Pradesh


Debarred from admission for the
academic year 2017-18 & 2018-
19.


 150




56


Uttar
Pradesh


Prasad Instt. Of Medical
Sciences, Lucknow


Debarred from admission for the
academic year 2017-18 & 2018-
19.


 150




57


Uttar
Pradesh


Varunarjun Medical College,
Banthra, Distt. Shahjahanpur,
Uttar Pradesh


Debarred from admission for the
academic year 2017-18 & 2018-
19.


 150




58


Uttar
Pradesh


Hind Institute of Medical
Sciences, Ataria, Sitapur, Uttar
Pradesh


Not permitted for admission for
the academic year 2017-18.


 150




59


Uttar
Pradesh


Major S D Singh Medical
College and Hospital,
Fathehgarh, Farrukhabad


Debarred from admission for the
academic year 2017-18 & 2018-
19.


 100




60


Uttarakhand


Shridev Suman Subharti Medical
College, Dehradun, Uttarakhand


Debarred from admission for the
academic year 2017-18 & 2018-
19.


 150




61


Uttar
Pradesh


Saraswathi Institute of Medical
Sciences, Hapur


Debarred from admission for the
academic year 2017-18 & 2018-
19 against increased intake from
100-150. The college is
recognized for 100 MBBS seats,
hence, it is permitted for
admission for 100 seats.


 50 ( barred increase in




62


Uttar
Pradesh


Era's Medical College &
Hospital, Lucknow


Not permitted for admission for
the academic year 2017-18
against increased intake from
100-150. The college is
recognized for 100 MBBS seats,
hence, it is permitted for
admission for 100 seats.


50 (barrred from increase intake)




63


Uttar
Pradesh


Rohilkhand Medical College &
Hospital, Bareilly


Debarred from admission for the
academic year 2017-18 & 2018-
19 against increased intake from
100-150. The college is
recognized for 100 MBBS seats,
hence, it is permitted for
admission for 100 seats.


 50 (barred from increase intake)




64


Uttar
Pradesh


Subharati Medical College,
Meerut


Debarred from admission for the
academic year 2017-18 & 2018-
19 against increased intake from
100-150. The college is
recognized for 100 MBBS seats,
hence, it is permitted for
admission for 100 seats.


 50 (barred from increase intake)




65


West
Bengal


Gouri Devi Institute of Medical
Sciences, Durgapur, Burdwan,
West Bengal


Debarred from admission for the
academic year 2017-18 & 2018-
19.


150




66


West
Bengal


IQ-City Medical College,
Burdwan, West Bengal


Not permitted for admission for
the academic year 2017-18.


 150




67


West
Bengal


ICARE Institute of Medical
Sciences & Research, Haldia,
West Bengal


Not permitted for admission for
the academic year 2017-18.


 100




68


West
Bengal


North Bengal Medical College,
Darjeeling


Not permitted for admission for
the academic year 2017-18
against increased intake from
100-150. The college is
recognized for 100 MBBS seats,
hence, it is permitted for
admission for 100 seats


 50 (barred from increase intake)




69


West
Bengal


Midnapore Medical College,
Midnapore


Not permitted for admission for
the academic year 2017-18
against increased intake from
100-150. The college is
recognized for 100 MBBS seats,
hence, it is permitted for
admission for 100 seats.


 50 (barred from increase intake)