A natural water birth goes wrong: Naturopathy practitioner held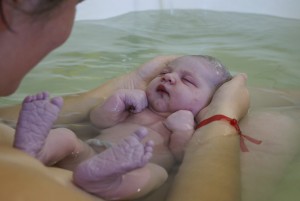 Kerala naturopathy clinic is now under scanner after a water birth goes wrong, leading to the death of the infant
Kerela: In a case of "natural" birth gone completely wrong, a woman lost her infant child after attempting to give birth through water birth at a naturopathy clinic here
The case is that of one Haseena Mohammad, who after having undergone three ceasarean operations for her previous pregancies, wanted to experience a normal deliver. She went to Naturopathy Clinic at the Malappuram district, where she was assured that of a normal delivery this time round by the practitioner at the naturopathy clinic, giving her the option of a water birth.
However, during the birth the patient began experiencing bleeding complications, which could not be brought under control, leading to the tranfer to MIMS hospital in Kottakkal, 7km from the naturopathy centre. Unfortunately, the infant could not survive and died during child birth.
A police case has been registered against Abbas Hussain, doctor-and-owner of the clinic, his wife (a yoga instructor), and his father-in-law for allegedly causing hurt.
"She was not given any medicine except  tender coconut water and some green leaves. That is the only medicine available at this clinic" said Hamsa K, father- in -law of Haseena.
A report submitted by Reproductive Child Health Officer for district, Dr S Renuka, has also revealed that the clinic does not possess required licences and that three similar cases were previously reported at the clinic, which went unattended.
Dr Anupama, Chairperson of the Women's Wing of the Indian Medical Association (Kerala) told
The News Minute
 that in difficult cases, such as that of Haseena, opting for a water birth was particularly dangerous and inadvisable.
"We believe that such techniques are not devoid of risks, more so in the case of a patient who has undergone three caesarean deliveries. Generally in such cases, it is the baby who is at a higher risk than the mother," Dr Anupama said.
She added that water births involve a number of risks.
"First of all, there is the glaring issue of hygiene. The chances of cross infection are alarmingly high in this case. Only after a thorough cleaning of the tub, can it be reused. The risk is greater in case of HIV-positive patients. Secondly, there is no mechanism to monitor the heartbeat of the baby under water. This is highly risky for the baby. Due to complications in the mother, the oxygen supply to the baby may be affected during the process of labour. This will go undetected," she said.
The post-mortem examination of the still born infant was carried out, details of which are awaited