Absent from Duty: 137 government doctors handed show cause notice in Telangana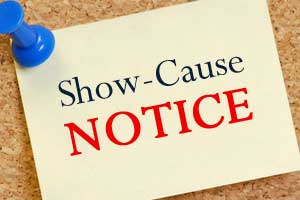 Hyderabad: The Telangana Vaidya Vidhana Parishad (TVVP) has recently served show-cause notices to 137 government doctors  on account of remaining absent from their duty.
In July 2018, the TVVP and Telangana State Public Service Commission (TSPSC) had recruited 900 doctors in various departments. Out of them 137 doctors were found to be completely missing from the duty since then. The absentees were mainly found to be gynaecologists, anaesthesiologists, general physicians, paediatricians and general surgeons. Few pathologists, radiologists and ENT specialists were also among the absentees.
A source informed the News Minute that there were few doctors after who were given job in the government
healthcare
centre. However, they did not report for the posting but kept collecting the salaries. Some of them were even working in the private healthcare centre at the capital city.
Read Also: Absent during MCI Inspection: Show cause notice issued to 182 doctors
A source from TVVP told the
TOI
that most of these doctors had shown a local address in the districts and took the posting. Some had gone absconding immediately after joining. They are doing private practice now, with many attached to small and mid-sized private hospitals.
The government, pulling the strings on their practice has now issued show-cause notice to these doctors
TOI quotes internal 'top priority' document as stating: "The above individuals are hereby informed that they should submit their explanation within seven days of receipt of this notice. Hence the superintendents, district headquarters of concerned districts are hereby directed to serve the notice to the individuals concerned and obtain dated acknowledgement from the individuals. If any deviation or lapses is noticed in this regard, disciplinary action will be initiated against the concerned. This should be treated as most urgent,"
After receiving the show cause notices, 40 doctors had responded to the show cause notice with a valid reason for being absent from the duties and so their position will be secured. However, the remaining doctors will be terminated and replaced, reports the
News Minute.