Advisory issued to states, UTs to fill up vacant posts of doctors, paramedics in hospitals: Choubey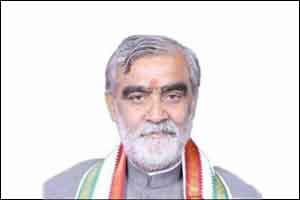 New Delhi: The Union Health Ministry has advised all states and UTs to fill up vacant posts of doctors and para-medical staff in hospitals to avoid excessive pressure on them and also to maintain global doctor-patient ratio, the Lok Sabha was informed Friday.
The ministry has also asked the states to make a provision for providing extra monetary incentives to doctors and para-medical staff serving in remote areas as compared to those working in major and metro cities with better career prospects and facilities.
The move comes in the wake of increasing cases of assault on doctors in hospitals and healthcare establishments across the country, Minister of State for Health Ashwini Choubey said in the lower house.
Responding to a question in Lok Sabha, he said that incidents of strike by doctors because of alleged assault on them during duty in various parts of the country have come to the notice of the government.
"The government has constituted a committee to examine various aspects of an uniform legislative framework to address the issue of assault on clinical establishments and doctors on duty," Choubey said in his reply.
He further said the health ministry has issued an advisory to all states and Union Territories to consider immediate measures for inculcating an effective sense of security among the doctors on duty which includes installation of CCTV cameras and deployment of round-the-clock Quick Reaction Teams with effective communication and security gadgets particularly at casualty, emergency and areas having high footfalls.
Read Also:8,000 health and wellness centres operational across the country: Ashwini Kumar Choubey
It also advised that the security of sensitive hospitals to be managed by a designated trained force, establishing a well-equipped centralised control room for monitoring, restricting entry for undesirable persons and filing institutional FIR against assaulters, the reply stated.
It also suggested displaying legislation protecting doctors in every hospital and police station, appointment of nodal officer to monitor medical negligence and setting up better infrastructural facilities and medical equipments and provision of extra monetary incentive for doctors and para-medical staff serving in remote areas as compared to major and metro cities.
The minister also clarified that as per Constitutional provisions, ''Health and Law and Order'' are state subjects and therefore, the concerned state and UT governments are required to take measures to prevent such incidents under appropriate legal framework applicable. Details of such cases is not maintained centrally, he added.
Last month, the Indian Medical Association (IMA) had held a nationwide protest following an assault on doctors at the NRS Medical College in Kolkata and demanded the enactment of a central law to check violence on medical professionals in hospitals.
Doctors at several other hospitals across the country also boycotted work, held marches and raised slogans to express solidarity with their protesting colleagues in Kolkata.
Union Health Minister Harsh Vardhan had supported the demand for a central law and had said that such crimes should be made non-bailable.
He had also written to all states requesting chief ministers to consider enacting specific legislation for protecting doctors and medical professionals from any form of violence, along with suggesting a model law proposed by the IMA.