AIIMS bone bank gets bones, skin from donor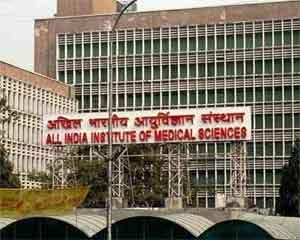 New Delhi: The country's lone full-fledged bone bank at AIIMS which has been waiting for a donation for the last two-and-a-half-years has received a boost with bones and skin harvested from a donor.
The donation has come through the National Organ & Tissue Transplant Organisation (NOTTO) after a 67-year-old deceased woman's family donated her bones and skin to the facility.
"I got a call from the NOTTO chief who informed about the donation yesterday. This has given the bank a boost. There was no donation in the last two-and-a-half-years," said Dr Rajesh Malhotra, the chief of AIIMS Trauma Centre, who had started the bank.
AIIMS also has decided to collaborate with the NOTTO to take this movement forward.
The bone bank, which was set up in 1999, has received just 24 cadaver donations so far. More so, there has been no donation in the last two years.
Lack of awareness, fear of body disfigurement and religious sentiments surrounding such donations have led to the facility remaining almost a non-starter even after 18 years of its inception.
But with this new donation, AIIMS now has three sets of pelvic, thigh and shin bones, Dr Malhotra said.
He further said that he is trying to spread awareness among people about bone donation and dispel their misconceptions.
AIIMS held the first public lecture on the issue last month and is also training transplant coordinators to convince families of the deceased into donating their bones.
People think that taking out bones will mutilate and disfigure the body and the limbs will dangle.
"Once the bones are taken out, the body is reconstructed and shape and structure of the limbs are restored by putting wooden sticks and stuffing it up with cotton and wool. Even knee caps are made with cotton and wool.
"So, after taking out the bones, which usually takes 10 minutes, we spend the next 30 minutes on stitching up the body so that aesthetically it looks good and the dignity of the donor is maintained," Dr Malhotra explained.
All that the relatives of the deceased will be able to see is a stitch, similar to those visible after surgery.
Bones from cadavers have to be retrieved within 12 hours. If a body is refrigerated, then the time frame extends up to 38 hours. They are then tested for HIV, hepatitis or any other infection.
If this procedure is followed and the bones are then stored at -70 degrees, these can be preserved for around five years, Dr Malhotra said.
Thousands of cancer and trauma patients need bone transplants in India every year, but only 35 per cent of them get these.