AIIMS Patna will be fully functional by 2018: Ashwini Choubey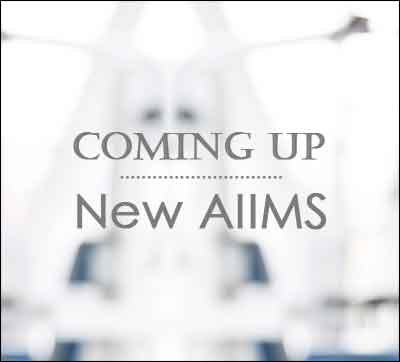 New Delhi: Union minister Ashwini Choubey, who drew flak over his reported remark that Biharis "crowd" the AIIMS here even for "minor ailments", said he has asked the Bihar health department to promote the Patna AIIMS so that patients dont have to go other cities for treatment.


The minister of state for health said eight new departments, including emergency, would be functional by February, 2018 at the AIIMS in Patna.

Currently, the OPD and IPD facilities for 18 departments, including general surgery, orthopaedics, obstetrics and gynaecology, dentistry and neurosurgery, are already operational.

"I held meetings with officials in the Bihar health department and asked them to promote and spread awarness about the AIIMS in Patna by advertisements and others," Choubey said.

"Already 18 departments are currently functional there but people are not aware of them. Thus, they reach the national capital and go to other cities for treatment," he said.

He also said currently 50 percent of people with complicated diseases are being treated at AIIMS Patna, and that he wants to make it 90-100 percent.

When asked if had instructed the director of AIIMS Delhi to turn away such patients, the minister said, "I have never said such a thing. What is being reported in media is baseless and false."

Media reports had quoted Choubey as having told a function here last Sunday that "people of Bihar are unnecessarily crowding AIIMS, Delhi even for minor ailments which can be treated at home".

Choubey today said the six AIIMS in Jodhpur, Rishikesh, Bhopal, Raipur, Patna and Bhuwaneshwar, which have a lack of doctors and faculty, will become fully functional by February 2018.

Choubey said the AIIMS in Patna will commence post graduate courses from July, 2018.

The former Bihars health minister said the government has also simplified the grant, known as revolving fund, given to AIIMS and other hospitals for the treatment of economically weaker patients.

Further, it has been decided that revolving fund of Rs 10 lakh would be given to six new AIIMS, including in Patna.

Currently, a revolving fund of Rs 90 lakh is given to AIIMS Delhi.

Revolving fund is given to central government hospitals which is used for the treatment of financially weak patients.

Choubey said Rs 70 crore is being invested to set up e- classrooms in different medical colleges including AIIMS, Patna. The e-classrooms will be committed to facilitating medical teachings from one medical college to another.

"A National Resources Centre will be set up in Lucknow as part of the e-learning initiative and seven regional centres in other states," he added.