Andhra moves to give Legal rights to RMPs, Doctors cry foul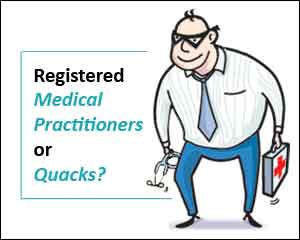 Andhra Pradesh: Doctors are crying foul with the state government's new initiative to impart para medical training to registered medical practitioners (RMPs) in order to utilise their services at rural medical posts.
Recently, the Health Medical and Family welfare department of the state took out a government order to empowering the paramedical council to give training to Registered Medical Practitioners as well certain Private Medical Practitioners in order to equip them to work as Community Paramedics
The Government of Andhra Pradesh have decided to give Community Para Medic Training Programme to the Registered Medical Practitioners (RMPs) / Private Medical Practitioners (P.MP). After training/certification to the Rural Medical Practitioners/Private Medical Practitioners shall be called as Community Para Medics.
For the same, the state Government has also constituted a committee under the Chairmanship of Commissioner of Health & Family Welfare to finalize the content and methodology for the conduct of training program, examination, and certification to the Rural Medical Practitioner/Private Medical Practitioners. The Commissioner of Family Welfare has been directed to examine the need for amendment to the AP Paramedical Board Act, to facilitate the above provision, if necessary
Allopathic Doctors Object
The move has not gone well with the allopathic doctors in the state, who have accused the government of promoting quackery in the state. The Indian Medical Associations has condemned the State government's decision to provide legal rights to RMP and PMPs.
Speaking to
Hind
u
about the proposed move, Dr. A. Subrahmanyeswara Rao, president of IMA, said Health Minister Kamineni Srinivas had announced that the legal rights would be given to about 70000 RMPs and PMPs, who are now unregistered practitioners, to provide health services to the public. And in order to get the license, all that they need to do is to undergo just a three-month training in an authorized medical college in the State
Registered Medical Practitioners or RMPs, basically with no recognized degree in modern medicine, are no longer recognized in the allopathic system and not allowed to practice. AP government used to give recognition to such medical practitioners by conducting tests, hence, they were called registered medical practitioners but the system was stopped from 1970s.