Gastric bypass: Intraoperative antiemetic agents do not influence postoperative vomiting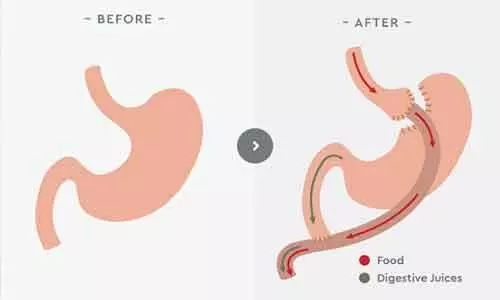 Delhi: The quantity of intraoperative antiemetic agents is not linked to postoperative nausea and vomiting (PONV) in gastric bypass patients, results from a small pilot study have revealed. The research was presented at the 2019 annual meeting of the European Society of Anaesthesiology.
Postoperative nausea and vomiting is a common and distressing adverse effect of bariatric surgery. It is often rated as the outcome that patients most want to avoid and is contributed by anesthetic, surgical and patient factors. Previous research has focused on the association between anesthetic technique and PONV using Likert scales, which are an inconsistent metric.
Nicholas Daine, an anesthesiologist in the Department of Anaesthesia at St. Richard's Hospital, Chichester, England, and colleagues in this single-hospital study used the electronic prescribing record to collect data on 215 patients (78% women; median age, 44 years; median body mass index, 49 kg/m2) undergoing laparoscopic Roux-en-Y gastric bypass without complications. Postoperative antiemetic use served as a proxy for PONV.
Postoperative antiemetic use served as a proxy for postoperative nausea and vomiting. A secondary outcome in the study was intraoperative remifentanil use. According to the authors, study bias was limited by the fact that different anesthetists worked with each bariatric surgeon.
In total, 38.6% of patients were administered triple therapy, with 53% of these patients later receiving antiemetic rescue treatment. In contrast, 60.7% of patients administered two or fewer antiemetic agents required rescue therapy.
In 2016, West Sussex Hospitals, the study institution, started standardized bariatric postoperative antiemetic and analgesia protocols by means of an electronic prescribing system. Triple therapy consisted of ondansetron, dexamethasone and cyclizine. The most common dual therapy option included ondansetron and dexamethasone. Ondansetron was the most common single antiemetic agent.

"We would caution that any benefit of triple therapy may be exaggerated in this study given that patients receiving intraoperative triple therapy with cyclizine and ondansetron are likely to have further doses of these rescue antiemetics withheld until a period of time has elapsed, tending to improve the marker of nausea," the researchers said.
Dr. Daine hopes to expand the scope of the study. "We've just ma naged to get ahold of a much bigger data set of about 600 patients. That will give us more power to pick out any differences that there might be. We are also looking at opioids that we use intraoperatively and whether that influences postoperative opioid requirements."
Peter Kranke, MD, MBA, an anesthesiologist in the Department of Anaesthesia and Critical Care at University Hospitals of Wuerzburg, in Germany, said, "My first impression is that rescue medication is one side of the [coin], and it's not a very sensitive marker; many cases of PONV may have not been spotted. The other issue is that such an investigation largely depends on the potency of the third intervention."
Source : 2019 annual meeting of the European Society of Anaesthesiology