Antibody solutions found to neutralize Marburg virus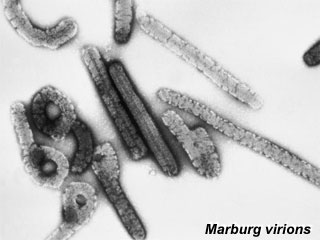 The new immune molecules is the first medical remedy for Marburg virus

Marburg virus, a close cousin of ebola, has a effective mortality rate of 90%. What's worse is the fact that there seems to be no immediate remedy for killing the virus, until now. The scientists have now identified new immune molecules, which act as antibody elements to identify and kill the deadly virus.

These antibodies are said to affect a new site of Marburg virus, which has not been attacked in earlier medical investigations. Antibodies were essentially required against other sites which remained to be discovered, after one such site has been identified by Vanderbilt University and The Scripps Research Institute (TSRI) earlier this year.

To defeat Marburg virus, multiple vulnerable sites on the virus's surface have to be identified, which are affected by antibodies. Previous research and trials have proven that mixtures or 'cocktails' of antibodies can block Ebola virus from infecting new cells and signal the immune system to the presence of the infection.

As reported by the PTI,

In the new study, TSRI researchers designed proteins which elicited new antibodies developed at Emergent BioSolutions.

Other antibodies in the study were independently identified at Mapp Biopharmaceutical and Integrated Biotherapeutics, which collaborated with TSRI for molecular analysis.

Some of the new antibodies target a new site on Marburg virus not seen before - a wing-like feature attached to the base of the virus.

Antibodies against this newly discovered site protected 90 to 100 per cent of infected animal models from lethal infection.

Some antibodies discovered in the new study are also able to cross-react with Ebola virus and its four relatives in the Ebola virus genus, researchers said.